Monday, October 20, 2014, 10:56 AM ET
|
If your head is still spinning from last week's HBO/CBS/potential cord-cutting news, then buckle up, because here's another doozy that seems ripe to be right around the corner: a partnership deal between Netflix and Comcast. You heard that right - two companies that have been sniping at each for years now have a perfect moment to strike a partnership deal with significant upside to both.

First, as far as the deal itself, it would roughly follow the template Netflix has already established with large pay-TV operators in Europe and smaller ones in the U.S. All those deals' details aren't known, but at a minimum they include operators integrating Netflix's app into their IP-based set-top boxes'/devices' UI, certain co-marketing arrangements, and some type of revenue sharing by Netflix (i.e. one-time new subscriber bounties and/or ongoing revenue sharing).
Netflix has been very eager to strike deals with big U.S. operators for a number of strategic reasons: set-top integration provides a more seamless living room experience for its subscribers (no need for additional devices / switching inputs), while gaining a (mostly) level playing field with other premium networks, with promotional support that would boost its subscriber count. These types of deals also facilitate related ISP interconnection deals, since the operator would now also be invested in having Netflix delivered in high quality.

Pay-TV deals seem more imperative in light of Netflix's Q3 '14 results last week. Domestic subscriber additions fell 300K short of both company projections and Q3 '13 performance (Netflix said the culprit was the slight price increase it imposed). Worse, international additions also fell short. Combined, they unnerved investors about Netflix's future growth curve, helping slice a good-sized chunk off the company's high-flying stock price.

A Comcast deal would help re-energize subscriber growth, as it's quite possible that just 6-8 million of Netflix's domestic subscribers are also Comcast subscribers. That means 14-16 million are not - a huge pool Comcast could help Netflix access cost-effectively. A deal with the biggest U.S. pay-TV operator would also cheer investors, as it would be a bellwether for other deals to follow. Finally, it would cement Netflix's positioning as friend, not foe, to the pay-TV ecosystem, validating Reed Hastings' long-standing refrain.

Fortunately for Netflix, HBO threw it a huge bone last week in announcing HBO OTT. By declaring that it could have both a direct-to-consumer business, in addition to its pay-TV business, HBO dramatically bolsters Netflix's argument that it merely wants the same. That helps operators think of Netflix like it wants to be thought of - as a premium channel partner that just happens to have its own direct business as well. Nothing to be scared of here.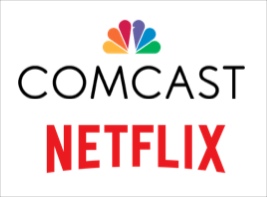 Moreover, HBO CEO Richard Plepler's brief, and highly ambiguous introduction of HBO OTT, and in particular its target audience (just the 10-15 million broadband homes or really all 80 million non-HBO homes?) is threatening in pay-TV land. If he truly means the 80 million and if HBO OTT is aggressively priced and with superb content, then HBO OTT would instantly be the most disruptive cord-cutting force the industry has yet encountered (note, some big "if's" in there).

As a result, Netflix becomes a very interesting partner, especially for Comcast. First, it expands Comcast's market positioning as a top-tier provider of VIDEO programming, not just cable and broadcast programming. It opens a whole new messaging avenue for the company, engaging Netflix's halo to shore up its own mixed reputation for quality (How's this for a tagline - "Now, Comcast + Netflix. Better Together.")

A Netflix deal also sends a powerful message to HBO that it should tread carefully with HBO OTT or Comcast will aggressively partner with OTT players (hello, YouTube?), thereby diminishing HBO's prominence as a programming asset. A Netflix deal also says to the hyperventilated media swooning about how HBO OTT (and CBS All Access) are the start of the great unraveling of the multichannel bundle, that in fact, operators will be both adaptable and strategic about embracing OTT as a complement to their businesses.

Importantly, Comcast is the most advanced of all operators in rolling out a hybrid IP-based set-top box, the X1. As I demo'd with the Winter Olympics app, X1 can handle apps as elegantly as any tablet or smartphone. Netflix would fit snugly in X1's app library, which to date lies somewhat fallow. Netflix augments X1's on-demand library too - for example, subscribers could get "The Walking Dead" from pilot through last night's episode in one convenient place. All this makes X1 more appealing in the brutally competitive video business vs. satellite and telco providers. It also helps Comcast sell and upsell broadband, as a quality connection is key to a top-flight Netflix experience, especially as it rolls out 4K.

Beyond these basic business considerations, a Netflix partnership could be a game-changer on the regulatory front. Until recently Comcast's Time Warner Cable deal was on the glide path to approval, helped along by the company's lobbying largesse. Now however, major speed bumps have appeared, as net neutrality advocates have succeeded in raising alarms with FCC chair Tom Wheeler becoming wishy-washy on the subject.

With net neutrality a political football in Washington, and even President Obama weighing in, there is talk of regulating broadband service under Title II as a common carrier per the 1934 Communications Act. This would not only result in far heavier broadband regulation but also possibly dash hopes for usage-based pricing flexibility down the road as video streaming explodes. If acquiescing to a change to Title II were a requirement for merger approval, that would almost certainly be a bridge too far for Comcast and the hard-fought TWC deal could well fall apart.

A Netflix deal would help recast the debate, tamp down net neutrality and help the merger's review. Comcast could now say, in effect, "See, OTT providers are our friends and we're embracing them. New regulations would only impede our ability to do these exact sorts of deals." Extend this even further by imagining the visual of Reed Hastings - arguably net neutrality's biggest booster - shaking hands with Comcast's Brian Roberts. Wow.

Last but not least, there's a huge customer service win in a Netflix-Comcast deal. An integrated Netflix-X1 experience is a better user experience for both services (one box, one bill, integrated search, etc.). It ushers in more OTT-X1 deals, still further improving the experience. By fusing OTT and pay-TV, it creates a spectrum where lighter users can still choose to subscribe to Netflix or other OTT services standalone, whereas heavier viewers can subscribe jointly and have a compelling integrated experience.

Admittedly, I've been cautious in the past about pay-TV operators hooking up with Netflix, but for all of the above reasons, there's a lot to like for both Netflix and Comcast in a partnership. The timing is right for both sides to bury the hatchet and act quickly. Let's see if they do.