Yesterday brought the public release of Adobe Media Player 1.0, first announced almost a year ago. AMP enters a very crowded space of other media players including its own Flash player, plus Windows Media Player, RealPlayer, QuickTime, SilverLight and others.
At a time when the broadband video industry in general and mainstream users in particular crave

standardization and simplicity, can another media player, with a "walled garden" content strategy to boot, add new value? While it's awfully tempting to say "no," I think there are reasons why AMP could well matter, subject to how well Adobe delivers on its vision. Here's why:
AMP offers 2 things that, in my opinion, the market still needs. First, a widely used downloadable app that specializes in delivering on FREE video content. Before some of you jump up and say, "Will, what about iTunes?" keep in mind that iTunes offers primarily a PAID video catalog (though to be sure there are some free video podcasts). Second, and related, AMP' provides a download environment in which advertising can be properly inserted, measured and reported on.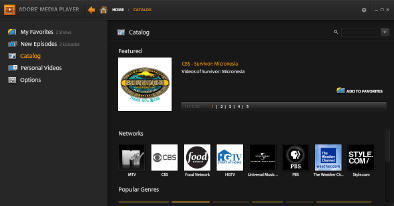 These are important because together they open up an entirely new consumer use case for broadband video: offline, free, ad-supported viewing. I've been saying for a while that an odd dichotomy has taken root in the broadband industry, particularly for network programs: users can get either free, ad-supported streamed video at lots of places (provided they're online) OR they can get paid, downloaded video (iTunes model) which allows offline viewing. But this has meant that someone who wants to watch a show offline, but isn't willing to pay for the pleasure of doing so is out of luck (one exception is NBC Direct). Having media stored locally in AMP would allow the offline, free use case I'm describing. This would open up a boatload of premium ad inventory that advertisers savor.
If that's AMP's opportunity, then the question is how well are they executing on it? Though it's never fair to judge a version 1.0 on its first day, my experience with AMP shows there's room for improvement. First is the currently thin content selection that needs to be massively built out to be appealing and competitive. Second is an inconsistent user experience in which some shows are downloadable, yet many are not (e.g. CSI, Hawaii Five-O, Melrose Place). Third are getting the basics right. In my case, when I did download some episodes successfully (blip.tv's "DadLabs" and "Goodnight Burbank") they didn't show up in my download section at all. Ugh. I'm hopeful that Adobe will be able to address all of these.
On the ad side, I think there will be plenty of enthusiasm from ad technology firms to integrate with AMP as Adobe proves it can drive millions of AMP downloads (in fact Kiptronic announced its integration yesterday and other will surely follow). Plus, advertisers should be expected to get on board.
It should be noted however, that even for a mighty brand like Adobe, winning the hearts and minds of users to download and use AMP isn't a trivial undertaking. I have some personal experience with this from my early days consulting at Maven Networks, which offered an eerily similar download app as AMP when the company started up. Though that was in the Mesozoic broadband era of 2003 and Maven was an unknown entity, the company never got much traction with its download app and eventually transitioned over to a streaming model. Since then I've come to believe that premium content must drive the download process, not vice-versa. One successful example of this is ABC.com using its shows to drive millions of downloads of the Move Networks player.
Net, net, AMP is a timely product that could well matter. How well Adobe executes on its vision will determine to what extent it does.