Virtual Multichannel Video Programming Distributors ("vMVPDs") or "skinny bundles" have become a very hot topic in the video industry. Offering fewer TV networks and at a lower monthly price they're seen as a way of keeping cord-cutters in the ecosystem while attracting cord-nevers. To learn more about the dynamics of vMVPDs, industry research firm (and long-time VideoNuze partner) The Diffusion Group recently completed a comprehensive study of vMVPD subscribers. I interviewed Michael Greeson, TDG's president and director of research, to learn more.

VideoNuze: From a top-line perspective, what are the most important takeaways from your research?

Michael Greeson: First and foremost, while these services are successfully connecting with cord-cutters, they are entirely missing out with cord-nevers. Cord-cutters account for 54% of total vMVPD subs. The consumers were largely driven from legacy services by high service costs and paying having to pay for channels they don't watch, and vMVPD services appear to better address these needs.

Cord-nevers, on the other hand, account for only 9% of vMVPD subs—clear evidence that these offerings are failing to resonate with younger buyers. And for good reason: cord-nevers are largely driven by a genuine lack of interest in multi-channel pay-TV services. They prefer a 'build it yourself' service that allows them to select and pay for only the channels they want, versus signing up for a bundle of channels.
Importantly, 37% of vMVPD subs also subscribe to legacy pay-TV services (i.e., dual pay-TV subs). Most are simply trying out virtual pay-TV to see how it works and whether it makes sense as a replacement to their legacy service. Regardless, they constitute more than a third of active vMVPD subs.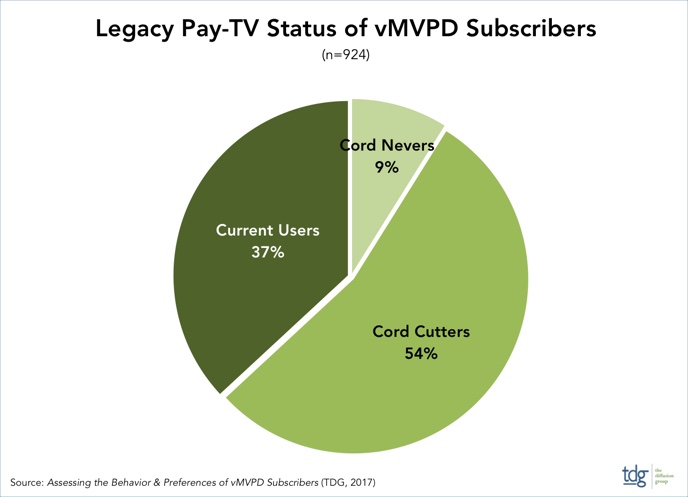 Second, virtual subs are more likely to engage the service across all their devices: 87% view this programming on TV, 45% on a tablet, 40% on a PC, and 37% on a smartphone (radically different metrics than legacy pay-TV).

Third, 20% of vMVPD subs bundle the service with their mobile plan, in virtually all cases DirecTV Now+AT&T. Of course, AT&T is unique in its ability to bundle mobile+TV, and suggests that those most likely to survive the low margins of vMVPD services should also have a significant and growing cash chow, preferably one that can be bundled with a virtual service. As I noted to a client long ago, it's time we imagine pay-TV as a value-added service. While unpopular, it is precisely where all this is headed. Incumbents already know it, and virtual vMVPDs will soon realize it.

Finally, 53% of vMVPD subscribers also use an OTA antenna, suggesting the absence of (and need for) a full slate of national broadcast networks to be included in the service. To meet this demand, most providers are rushing to add local broadcasters are quickly as possible.

These are just a few key takeaways from our new study.

VideoNuze: Who is subscribing to vMVPD services and what did you learn about their motivations?

MG: Consistent with insights regarding cord-nevers, the youngest adults are largely staying away from virtual pay-TV services: only 9% are between the ages of 18 and 24, while 56% are 25-44. Notably, 20% of vMVPD subs are 55-65, suggesting that the key value points of lower prices and fewer channels are very attractive to older consumers.

Additionally, 39% of vMVPD subs self-identify as Innovators, 32% as Early Adopters. Consistent with their multi-screen viewing habits, this is largely a very technologically sophisticated group. This type of viewer expects a feature-laden service (DVR, catch-up, pause/rewind, etc.) and a consistent user interface across all devices.

As discussed above, and regardless of demographics, decision makers are largely driven by lower costs and not paying for/hassling with channels that they don't watch.

VideoNuze: Should traditional multichannel pay-TV operators be concerned that their existing subscribers are churning out in favor of vMVPD services?

MG: Indeed. As noted earlier, a majority of vMVPD subs are cord-cutters, having previously used but cancelled a legacy service. To the dismay of traditional pay-TV operators, 62% of this segment cancelled their legacy service either six months before or after signing up for the vMVPD service. And while 50% of these consumers had subscribed to the (former) legacy service for 1-3 years, 27% had used a traditional service for more than five years. Thus, vMVPD services are attracting legacy subs at both ends of the tenure spectrum.

If there is an upside for incumbent MSOs, delivering a seamless live TV streaming experience requires a consistent high-speed broadband service. To this end, a majority of vMVPD subscribers upgraded their home broadband service during or within six months of signing up, with 23% using a service with downstream speeds above 100 MB.

VideoNuze: What if anything did you learn about the churn profile of vMVPD subscribers, and how this compares to traditional pay-TV multichannel services? What were the key factors that spurred their cancellation?

MG: Nearly five-in-ten active vMVPD subscribers tried and cancelled another vMVPD service. The key factors for this decision include technical issues (41%), the lack of broadcast channels (37%), high costs (36%), and the absence of their favorite live sports (28%).

VideoNuze: Sling TV jumped out to an early lead in the vMVPD category, but more recently we've seen YouTube TV be particularly aggressive. How do you expect the competition to evolve in 2018?

MG: As for the existing slate of vMVPD providers, AT&T's DirecTV Now has a leg up because it can bundle its highly profitable mobile service with a low-profit virtual pay-TV service. (As we first advised clients in 2012, it's time to imagine pay-TV as a value-added service.) We expect the presence of mobile+pay-TV bundles to gain significant share in the next few years, and AT&T to be the primary beneficiary.

YouTube TV also has a sizable baked-in audience for its pay-TV service (YouTube users) and the deep pockets of Alphabet/Google to keep it funded as other services give way to competitive pressures. Unfortunately, the YouTube base is not necessarily well suited to transition to a multi-channel fee-based paradigm, especially at $40/month. That being said, it's important not to underestimate the amount of money Alphabet/Google can throw behind YouTube TV, as illustrated during the World Series.

As for Sling TV, the support of the second largest DBS provider in the US, Dish Networks, is not insignificant.

Unlike AT&T, however, Dish does not have the luxury of a mobile cash cow to subsidize Sling TV's razor-thin margins. Its DBS base is in rapid decline and, despite a huge tax windfall, Dish's 2017 operating income declined 32%, in part due to the 'exchange' of high-value DBS subs for low/no-profit virtual subs. While Dish views Sling TV as a long-term savior for its struggling DBS business, the roof may collapse before the foundation is complete. Sling TV's sub base will grow in 2018, but its lead over AT&T will fade, its operating income will continue to slip, and it will (yet again) become a ripe target for acquisition.

Hulu, both the on-demand and live TV services, are in the midst of transition, as Disney looks to acquire key Fox assets and prepares to launch a new DTC service in early 2019. Should this happen and Disney take a majority stake in Hulu, it's uncertain where the brand will end up. That being said, the brand enjoys more than 16 million on-demand subscribers that are particularly fond of TV shows, providing a rich target audience for its virtual pay-TV service (assuming, that is, they still have an appetite for live TV). There is definitely room for growth, but larger strategic issues must first be resolved before Hulu's future will be known.

Sony Vue, which was launched just two months after Sling TV, appears to have lost what momentum it had early on. The service had less than 700,000 subs at year-end 2017 and we expect minimal (if any) growth in 2018. Keep in mind that Sony ditched its $30/month 'slim' package in 2017, with its lowest-cost service at $40/month, in line with others. Yes, it has a sizable base of PlayStation users, but most are the younger consumers that view a $40/month live TV service as a nice-to-have, not a must-have.

FuboTV, more than any other service, is still an experiment in action. The sports-first service has rapidly added mainstream channels (including major broadcaster networks) to its mix. While it had to date attracted less than 250,000 subscribers, we expect this to at least double in 2018. For FuboTV, the challenge has been limited marketing and, consequently, a lack of brand recognition. Given the deep pockets of its funders (21st Century Fox, Sky, Scripps, and most recently Northzone), this problem is addressable. Its progress in 2018 will largely determine whether this $75 million experiment has legs.

With Philo added to the mix in late 2017, and a slate of others planning market entry in 2018, this will be an interesting year for vMVPDs. TDG will be watching.

VideoNuze: Thanks for your time.

(Note: To learn more about TDG's vMVPD primary research and market analysis, contact Laura Allen Phillips at lap@tdgresearch.com)