The adage that a "journey of a thousand miles begins with a single step" comes to mind when thinking about the significance of news that LG Electronics is integrating YuMe's advertising technology in its "Smart TVs."
Why? Because while the norm will eventually be for high-quality video, apps and interactive ads to be delivered to connected TVs through broadband IP connections, the reality is that it's still very early days in achieving this grand vision. However, the LG-YuMe partnership provides tangible evidence that the foundation is indeed being laid, which portends exciting things for everyone in the ecosystem.
As Ed Haslam, SVP, Marketing at YuMe and Wendell Wenjen, director of strategic alliances at LG explained to me in a briefing, they believe this is the first time that ad technology has been embedded into the firmware of Smart TVs, which, given TVs' limited processing power, results in better ad performance and reliability vs. software or browser-only alternatives. The new YuMe Embedded SDK gives app developers and content providers an immediate monetization source, while allowing advertisers to directly target LG Smart TV users with the same kind of interactive, engaging ad campaigns already being delivered online.
Because campaigns can be extended incrementally to LG Smart TVs through YuMe's Connected Audience Network, advertisers don't need to worry about whether there's sufficient scale for deployed LG Smart TVs yet to make targeting them worthwhile. This lack-of-scale issue is what always challenges any new platform that is trying to gain advertiser attention and dollars (it's worth noting that online video advertising itself has succeeded by evolving from spending in broader online and TV advertising and rich media rather than starting from scratch).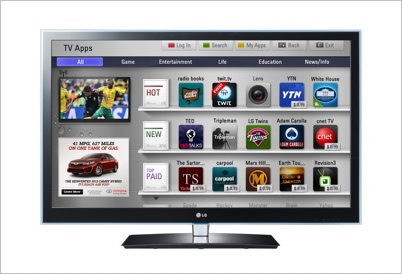 So even though forecasts call for sales of 14 million total Smart TVs in the U.S. this year (with only portion being LG models), advertisers can add these users as part of a larger multi-screen campaigns running through YuMe's network, which is essentially what charter advertiser Toyota is doing. Then, over time, as Smart TV penetration grows and ad performance is better understood, brands can re-direct more spending to the platform as they choose.
LG can now go to app developers with the proposition that it can monetize apps with display, in-banner or in-stream ads out of the gate, which will no doubt drive heightened interest. YuMe gains a foothold in the burgeoning connected TV space and can now offer advertisers the ability to add LG Smart TVs to their campaigns and publishers the ability to monetize LG Smart TV viewership. For example, think about how VOD apps from pay-TV operators and cable networks could be monetized when viewed on LG Smart TVs. And with LG's "Magic Motion" remote controls, a new mode of interactivity is possible that goes beyond the traditional keyboard and mouse.
Overall, I see this an exciting building block toward the long-term future of connected TVs, fueling more video-centric apps and better monetization. As other consumer electronics companies follow LG, the whole ecosystem stands to gain.
(note: YuMe is a VideoNuze sponsor)