The crew over at Hulu must be gleefully fist-bumping each other this week as Hulu scored a key strategic and public relations coup in adding to its lineup two of Comedy Central's most popular programs, "The Daily Show with Jon Stewart" and "The Colbert Report." Though officially positioned as a test, Hulu still deserves big-time kudos as the deal is an endorsement of its value proposition.
The deal and Hulu's execution illustrate a larger point that I've been making for a while: one of broadband's three key disruptions is that it enables new aggregators to gain an edge on larger incumbents by changing the dynamics of competition. To be more specific, in this case, I think that Hulu has out-executed Comcast, America's #1 cable operator by delivering new value to consumers and gaining important PR momentum. Here's why:
Fancast, which is Comcast's online portal (in beta), actually announced a deal with Comedy Central back on May 19th for access to these same programs and others. Yet go to Fancast and search for "Daily Show" and, as shown below, you won't find any Daily Show full episodes available, just an assortment of short clips and times when it's on TV. A Comcast spokesperson told me that Comcast's implementation is imminent, but its delay in getting the programs up and running is accentuated when you consider that Comedy Central must have done its distribution deal with Fancast BEFORE its deal with Hulu.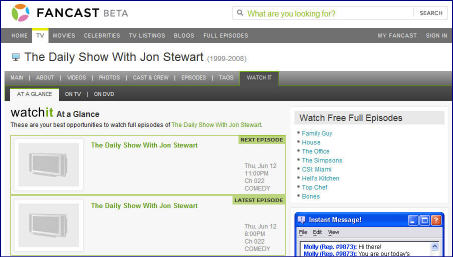 Second, and more concerning is that, as a Comcast digital subscriber, when I tried to find The Daily Show and Colbert in Comcast's VOD menu, all that is available are five older Colbert clips and 1 older Daily Show clip. My guess is these haven't been updated in a while. No full-length Daily Show or Colbert programs are available at all in VOD.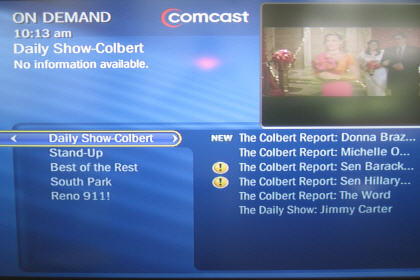 While the Comcast spokesperson told me that the company works closely with its programming partners like Viacom to figure out the optimal mix of programming to make available on VOD, I think an unavoidable conclusion here is that Comcast (and other cable operators) is constrained by its inability to monetize VOD programming with advertising (what this week's "Project Canoe" is meant to address) and to easily add new programming on the VOD menu. These programming gaps create opportunities for upstarts like Hulu to capitalize on.
It may be unfair to zero in so narrowly on Comcast's execution with Daily Show/Colbert, yet things weren't much different when I searched for MTV's popular "The Hills" on Hulu, Fancast and Comcast's VOD. While Hulu doesn't appear to have a deal for full episodes of "The Hills" it masks this cleverly by providing thumbail images and easy navigation back to MTV's site where the video lives, for over 50 episodes (this is tactic Hulu uses for ABC's shows as well). On the other hand, Fancast displays just 5 full episodes, 2 from this season and 3 from last. And on VOD there are also just 5 episodes, though all from this season.
I think it's pretty significant that Hulu, a site that only went live 3 months ago can not only gain access to hit Comedy Central programs like Daily Show/Colbert, but can execute quickly. Hulu is using its advantages - flexible technologies, interactive features (clipping, embedding, sharing), monetization capability, savvy PR and startup pluck to compete with far-larger incumbents like Comcast.
Of course Comcast racks up billions of VOD views each year and has vast resources, making it an important player in on-demand programming. Yet Hulu has managed to make Comcast's advantages look a little less intimidating. I asked the Comcast spokesperson about this. She acknowledged Hulu's progress, but maintained that Comcast believes its mulit-platform approach is stronger.
In the big picture that's true, but when it comes to winning consumers' hearts and minds, it's often execution, not broad strategy that carries the day. And don't forget, when Hulu is unshackled from the PC - with its content freely riding Comcast's broadband pipes all the way to the TV - execution will matter even more.
This week Hulu provided a textbook example of how broadband-only aggregators can gain a foothold against well-established incumbents. Comcast and other incumbents should be taking notice and getting their game on.
What do think? Post a comment and let everyone know!