Tom Hanks. Louis C.K. Lisa Kudrow. Kevin Spacey. David Fincher. Bill Maher. Jennifer Lopez. Judy Greer. Steven Van Zandt. Anthony Zuiker. Morgan Spurlock. Ed Begley, Jr. Heidi Klum. What do these Hollywood A-Listers (or near A-Listers) and other stars all have in common? They're all involved in original online video projects which are helping upend the Hollywood ecosystem, legitimize the online medium and further fragment audiences. Each no doubt has his/her own reasons for getting involved, and taken together they're creating momentum that is going to draw in even more talent.
Of course, the big news this week was Tom Hanks partnering with Yahoo for the animated series "Electric City." Hanks, one of Hollywood's most bankable stars, said he was drawn by the opportunity to make "ambiguous attractive" which feels like another way of saying he's searching for greater creative freedom. While creativity may be motivating Hanks, in Louis C.K.'s case, it seems more about tweaking the System and proving that when presented with a compelling offer (in this case a $5 DRM-free download of his "Live at the Beacon Theater" special), people will behave properly (i.e. pay rather than steal).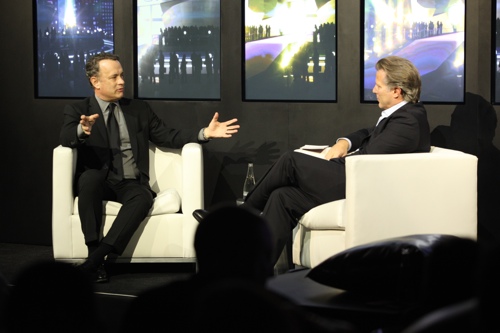 All of these initiatives are risky, but the prerequisites for them to succeed are firming up as well. Most important, established companies like YouTube, Yahoo, AOL, Netflix and Hulu are leading the charge, and seem ready to invest in and deficit finance these productions. Each has meaningful original content initiatives, underpinned by their sizable audiences and monetization capabilities (whether ad-supported or subscription-based). They are each doing their part to create an ecosystem of third-party production houses gaining expertise in digital, and therefore poised to help subsequent stars succeed in the online medium. Often big brands are getting involved early on, enticed by customized, high-value opportunities.
In addition, there are countless independent online video sites that are attracting big audiences, increasing their content quality and building their own brands. In this group are sites and producers like Machinima, Revision3, Maker Studios and others.
One final - and crucial - piece to the picture are the connected TVs and devices that allow audiences to experience these new shows in a familiar and high-quality, lean-back mode. Watching short clips on computers jump-started the online video industry, but to make it a mainstream entertainment experience requires conforming to viewers' expectations. The proliferation of connected TVs, gaming consoles, Blu-ray players, tablets, Rokus, Apple TVs, etc. is creating a massive user base that can tune into these online-only productions as easily as flipping conventional channels.
And that brings us to the question of what impact all of these initiatives will have on the traditional Hollywood ecosystem. I think it's inevitable that audience fragmentation will increase further. Just as cable TV networks have splintered broadcast TV audiences over the last 30 years, online is now going to sub-divide all of TV. Many on-demand viewers are already oblivious to what channel a particular program actually appears on; to this audience there will be no big behavior leap required to navigate to Tom Hanks' or another star's new online show. Discovery will be facilitated by emerging personalized aggregation and recommendation mechanisms.
Hollywood is entering a brave new world, driven by audience changes, technology advancements and the shifting interests of its own biggest stars. How it adapts to all of this is yet to be determined.