Tuesday, December 11, 2007, 10:18 AM ET
|
blinkx, which has been around as long as just about anyone in the video search space, is steadily building out its distribution network and advertising capabilities. I caught up with Suranga Chandratillake, CEO of blinkx, who's led the company since its spinoff from Autonomy, and successfully took the company public on London's AIM earlier this year.
Suranga said blinkx is now supporting 5 million searches/day and generating 50 million unique visitors/mo across its network. Network partners featuring a blinkx search box now include Ask.com, Real, Lycos, Infospace and scores of smaller sites that use blinkx's API. Suranga says blinkx can't distinguish between traffic coming from network partners vs. at blinkx.com itself. And the revenue splits in the business deals seem to vary widely, though typically they average out to 50-50. All deals are based on advertising, with the partner usually selling the inventory.
On the ad side, blinkx took a big step forward earlier this year, launching its "AdHoc" contextual ad program. Given the analysis blinkx is doing on video to drive search, it's a natural that the company now leverages this knowledge to improve targeting for ads. In fact, Suranga sees AdHoc as a sort of AdSense for video, dynamcially matching ads with relevant content.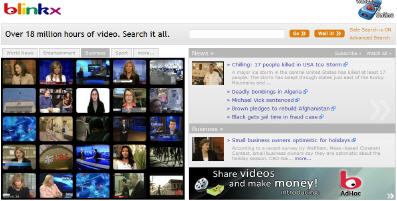 With improved targeting of course comes improved CPMs. Suranga says they've seen CPMs as high as $66 through AdHoc. blinkx is relying on the scale of its 220+ content relationships and millions of impressions to make AdHoc work. Formats can vary but the one that has been most successful so far in a mid-roll banner with an invitation for user to click and engage. As I've written before, AdHoc plays in the same space as other contextual video ad companies such as ScanScout, Adap.tv, DigitalSmiths, AdBrite, YuMe and of course YouTube, plus others.
Both the contextual ad and video search spaces are growing increasingly crowded. Players recognize these are 3 interrelated Achilles heels of the current broadband video model: users finding desired content, content providers getting paid for their work and advertisers getting sufficient and well-targeted industry. blinkx seems well-positioned to address all three.