VideoNuze readers will recall that back in Dec '08, my 2nd prediction for 2009 was that mobile video was finally going to take off. Among the drivers I identified, the main one was clearly the massive, and growing, popularity of the iPhone. But despite all of its gee-whiz capabilities, the iPhone 3G, which was then the latest one on the market, and was running the iPhone OS 2.0, still wasn't really optimized for video.
Flash forward to June '09 and the release of the iPhone OS 3.0, which is downloadable to iPhone 3G, and pre-installed on the iPhone 3GS, and we can see that Apple now has the architecture in place to fuel a massive takeoff of mobile video streaming.
Following is a deep dive explanation of why that is, based on a detailed conversation I had John Bishop, SVP of Business Development & Strategy at Inlet Technologies, an encoding company that's involved with recent iPhone video apps, an excellent new white paper from Akamai, "HTTP Streaming for iPhone Best Practices" and other research I conducted. (For those that want to get further into the weeds, note also that Akamai, Inlet and Turner Sports have an upcoming webinar on this topic.) If you're a video provider looking to capitalize on mobile video distribution, and the iPhone in particular, all of this is crucial to understand.
The most important video-related elements Apple has released are support for HTTP streaming, a new protocol for adaptive bit rate (ABR) streaming and a new iPhone media player that can handle both. In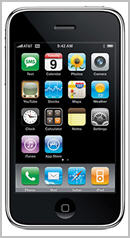 addition, a significant increase in battery life (especially important to retain phone functionality) is enabled by a hardware-based video decoder. And the iPhone supports "HSDPA," an enhanced 3G protocol AT&T is rolling out, which provides up to 7.2 megabit per second delivery, guaranteeing outstanding video quality. All of these elements, when combined with the iPhone's open (well, relatively at least) App Store and web browsing, offer video providers a breakthrough mobile video environment.
HTTP-based streaming is particularly key because CDNs already have massive deployments of HTTP (the web delivery standard) servers. That means they avoid significant capex to support proprietary video streaming protocols like RTSP and RTMP, and can instead focus just on hardening their HTTP infrastructure to scale video distribution.
Apple's new ABR streaming protocol means a far superior user experience that obviates disruptive buffering and users having to make confusing choices like "hi res" or "low res." ABR streaming was pioneered by Move Networks. Microsoft and Adobe now each have their own ABR streaming approaches.
Importantly, because the iPhone supports H.264, video providers can use existing encoding vendors like Inlet to simply create multiple iPhone-compatible video files encoded at different bit rates that are then delivered to their CDN for iPhone distribution. No intermediary "encapsulation" step needs to be taken to support Flash for example. As the iPhone's media player auto-detects available mobile bandwidth, it continuously re-selects the optimal video file to stream. Inlet makes a key contribution in this process by doing "key frame alignment" - essentially allowing the new file being streamed to start at the same frame where the old file left off. Pretty cool stuff.
From the content provider's standpoint, iPhone-directed video can either be embedded in a web page, or as part of an app, for distribution in the iPhone's gigantic app store. The open web approach of course means it's available for all to see. On the other hand, the app route means greater control of the brand, user experience and business model (e.g. free, paid, authenticated, etc.), though it will involve time and money is needed for development.
This whole paradigm is still so new that we've only begun seeing the first iPhone video apps come to market. Examples include the updated version of MLB.com's At Bat app, the live Aug. 7th concert from Underworld, the PGA Championship app from Turner Sports and the PGA, and yesterday, the launch of the HSN "shop app." I can relate to the value of the PGA app - I was in a car on my way back to Boston on Sunday afternoon, furiously - and unsuccessfully - trying to follow the Yang-Woods showdown shot-by-shot on my Blackberry (I'm a Verizon sub, so no iPhone for me, grrrr....). If I'd had an iPhone, would I have spontaneously paid $1.99 for the PGA app so I could watch the action? In a heartbeat.
Mobile video is an incredibly exciting extension of the broadband experience users have come to love, except with the additional benefit of being untethered. The iPhone is the first environment that brings all the necessary elements together and will, in my view, drive an explosion of mobile video streaming apps (though I concede to being uncertain what AT&T will think of all this). Think about video apps that are yet to come from folks like Hulu, Netflix, and others. No doubt we'll see Android, Palm and Blackberry further fuel the addressable market. Add it all up and there's a lot of growth ahead in the mobile video space.
What do you think? Post a comment now.