Friday, March 21, 2008, 9:08 AM ET
|
Closing out another busy week, here are 3 diverse broadband video snippets that hit my radar in the past few days:
1. YouTube Drives the Political Newscycle
Back in December, in 6 Predictions for 2008, I suggested that "2008 is the year of the broadband presidential election." This seems to become more evident with each passing week. I find that particularly when watching cable news, YouTube's influence just keeps on growing.
For example, I'm a fan of "AC360" on CNN, which I try to catch at 10pm each night. This week the show was constantly replaying the YouTube videos of Rev. Jeremiah Wright that have dogged the Obama campaign. Conversely, a few weeks ago, Obama got a great tailwind from the massive attention paid to the viral "Yes We Can" music video sensation by will.i.am. That of course was on top of the earlier "Obama Girl" phenomenon. Separately, the McCain campaign just yesterday fired a campaign worker for posting a controversial video on YouTube about Obama and race. This too was covered on AC360 last night. Then of course there were the YouTube co-sponsored debates, offering video-based questions that were constantly replayed afterward.
The point of all this is that broadband video has turned election coverage upside down, making it incredibly hard for candidates to control the political newscycle. The "democratizing" effect of YouTube means that on any given day, at any given moment, something may get posted which diverts the campaign's attention. And with major media outlets paying such close attention to YouTube, everything is immediately amplified. Not since the early 1960s when TV began influencing presidential politics have we seen a new medium have such a profound impact on an election. And we still have 8 months to go until November...who knows what's yet to come!
2. SI Vault is Addictive
On to something more fun, if you haven't yet checked out Sports Illustrated's new "SI Vault" site just launched this week, I suggest you do. It's a highly addictive trip down memory lane. SI has digitized all of its assets and also made available non-SI content, all in one easy-to-use location powered by Truveo. Focusing on video, I found Franco Harris's "Immaculate Reception" from the 1972 Steelers-Raiders playoff game and also Doug Flutie's famous "Hail Mary" pass to beat Miami in 1984. I could have spent hours at the site, although it's not perfect. I tried finding Tom Watson's 1982 U.S. Open chip-in at Pebble Beach to beat Jack Nicklaus, but alas no results were found. Obviously all this stuff is available elsewhere online, but SI Vault creates a great context for sports fans to enjoy themselves, wrapping SI and non-SI content together in one nice package.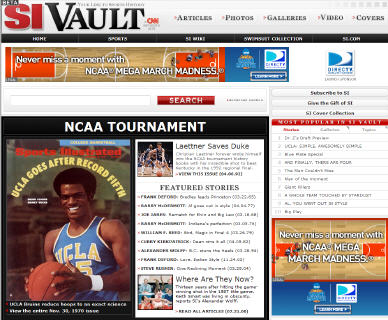 3. Apple's Roadblocks are Baaaack
And for even more fun, I encourage you to check out
WSJ.com
and
NYTimes.com
today. Apple is "roadblocking" the home pages of both again with a new Mac vs. PC ad, as they did
back on Jan. 17th
. This means that Apple has bought out all the home page leaderboard inventory on these 2 sites, so every time a visitor comes today, they see the same Apple ad. With all the talk about broadband video advertising, pre-rolls, overlays, etc, Apple again shows with its roadblocks how a little bit of creativity with rich media ad units can go a really long way. The ads are a great mix of interruption and opt-in and are no doubt highly effective branding units for Apple. Have a look and enjoy.