Surfing over to YouTube the other day, I was struck by how the site could well become the ultimate brand engagement platform. Below is a screen shot of what I found - nearly all the visible real estate showcased 2 different brand contests encouraging users to submit videos for a chance to win prizes.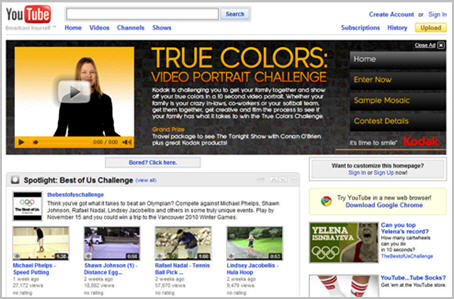 The first contest, the "Kodak True Colors: Video Portrait Challenge," was just kicking off, and therefore had prominent positioning. The contest urges users to submit as many 10-second videos as they'd like in pursuit of a grand prize including 2 tickets to a taping of the "Conan O'Brien" show. The other contest, "The Best of Us Challenge," by the International Olympic Committee, shows athletes doing something outside their specialty (e.g. Michael Phelps doing speed putting, Lindsey Jacobellis doing the hula hoop) and asks user to emulate these or create their own challenge. The winner receives a trip for 2 to the 2010 Vancouver winter games. The contest was featured in YouTube's "Spotlight," a section on the home page populated by YouTube's editors based on user ratings.
These types of brand contest are not necessarily new, nor are their inclusion in YouTube. Over a year ago I suggested there was real opportunity in what I called "purpose-driven user-generated video" - the idea that with YouTube turning millions of people into amateur video producers, their enthusiasm and skills could be channeled to specific purposes. The success of campaigns like Doritos' $1 Million Super Bowl challenge has amply demonstrated that great creative and great buzz can be generated from a well-executed UGV campaign.
What YouTube's home page that day demonstrated to me is that as brands continue embracing online video and user participation, the go-to partner will be YouTube. There's simply no better way to reach a broad audience of likely contestants than by making a big splash on YouTube. While YouTube's monetization challenges have become one of the most-talked about industry topics this year, I'd argue there's been insufficient focus on the fact that since May '08, YouTube's share of overall video viewing has stayed right around 40%, at least according to comScore. In that time, YouTube's videos viewed per month have more than doubled, from 4.2 billion, to 10.4 billion in September '09.
Even as sites like Hulu and others have launched and promoted new and innovative sites, YouTube continues to retain its share of the fast-growing online video market. YouTube has also matured considerably, with its Content ID system largely sanitizing the site from pirated video and helping change its perception among copyright owners. (Note that on my recent visit to YouTube I searched in vain for a video of Johnny Damon's double steal in Game 4 and found nothing but "This video is no longer available due to a copyright claim by MLB Advanced Media." In the old days a video like that would have been available all over the site.)
While YouTube has made headway adding premium content partners, a significant part of its appeal remains users uploading and sharing videos. YouTube's combination of massive audience, ubiquitous brand, user interactivity and promotional flexibility make it an ideal partner for brands looking to engage their audiences through video.
Last summer I got plenty of flak for my post, "Does It Actually Matter How Much Money YouTube Loses?" in which I argued that YouTube's long-term strategic value (and Google's financial muscle to support the site's short-term losses) superseded the company's current losses. While I didn't mean to suggest in that post that a company can afford to lose money forever, I was trying to contend that YouTube, the dominant player in a fast-growing and highly disruptive market will eventually find its way to profitability and is well worth Google's continued investment.
YouTube is a rare example of a "winner take all" situation; there is no other video upload and sharing site even on the radar. As video becomes ever more strategic for all kinds of brands, they will increasingly recognize that YouTube is a must-have partner. If Google can't figure out how to make lemonade out of YouTube's lemons, then shame on them. I'm betting, however, that they will.
What do you think? Post a comment now.