Thursday, April 2, 2009, 9:36 AM ET
|
World Wrestling Entertainment (WWE) has created an innovative user-edited video application called "Smash-Ups" to engage its fans and drive excitement for this Sunday night's "WrestleMania 25th Anniversary" event. It's a great example of how long-form video can be segmented and made available to users to exercise their creativity in support of the brand. In this case, WWE is also offering a $5,000 prize to the user who creates the best clip.
I've been a fan of these kinds of mashup or re-mix apps, going back to a post I did in August '07 about the one that Universal Pictures and Metacafe created for "The Bourne Ultimatum." More recently, NFL has had success with its NFL "Replay Re-Cutter" launched last fall. I continue to believe they offer a clever way for fans to engage with the brand and potentially tapping into archive content that likely isn't creating any current value. The clips create new video views and incremental ad inventory. And as the clips are shared by users they also become a cheap source of viral marketing.
WWE gets all this. Brian Kalinowski, WWE's EVP, Digital Media said, "The WWE is renowned for its passionate fans and compelling content, and WrestleMania Smash-Ups allows us to bring both together in an innovative, engaging broadband video experience....unleashing the full value of our library of tens of thousands of video clips to drive greater engagement from our viewers and enhanced content monetization." In addition to the video clips, Smash-Up lets users edit the segments provided, and insert audio tracks and title cards. If there's one downside, it's that the maximum clip length is 2 minutes, which is not a lot of time for hard-core fans to create a meaningful montage out of 25 years of classic footage.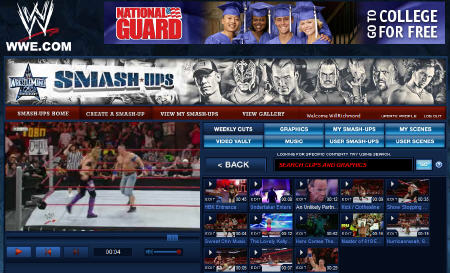 The Smash-Ups are powered by Gotuit, a company I've written about which has also recently announced it is powering Major League Soccer's "QuickKicks" video portal and remix and Lifetime's "Movie Mash-up" feature. As CEO Mark Pascarella and VP &GM Patrick Donovan, explained, a key Gotuit advantage for all these initiatives is that no new video clips are actually being created. Rather, by using Gotuit's metadata and indexing capabilities, the content provider can tag particular scenes and present them as clips. When users create their mixes, they're actually just combining a series of "virtual clips" - time-coded in and out points in the underlying long-form video files. This makes managing these activities a lot simpler and cost-effective. The Smash-Ups also showcase how the Gotuit UI can be fully customized and integrated with WWE's look-and-feel.
WWE is monetizing the clips through both sponsorships (THQ) and ads. A pre-roll or mid-roll is inserted up to a maximum frequency of 1 ad per 2 minutes of content (a Gotuit setting the content provider can adjust). Users can share their creations with embed code or via email. WWE has also done a great job promoting the Smash-Ups, enlisting its superstars to make their own videos which are posted on YouTube.
These user-edited applications (especially if they're part of contests with meaningful incentives) are a pretty compelling tactic for content providers to drive viewership and monetization. I expect we'll continue to see more of them launched.
What do you think? Post a comment now.