Monday, February 8, 2016, 12:02 PM ET
|
Overall, the quality of streaming of last night's Super Bowl was strong, although I experienced inconsistent latency across different devices I was using. As shown in the images below, I set up an informal lab in my house, with the game on Comcast, via X1 (center), Roku TV (left rear), Amazon Fire TV on an Insignia (right rear), CBSSports.com (front left and right) and Verizon Go90 (front center).

As can be seen, each device is lagging behind the CBS broadcast feed on TV and to a different extent. I measured the latency at a few points and it seemed to get worse as the game progressed. For Lady Gaga's national anthem, the Roku and Amazon feeds were approximately 40 seconds delayed, but by the end of the game, each was over a minute delayed. The online streams were approximately half this delay and the Verizon stream still slightly better.
Latency aside though, the quality of the streams was fantastic. I observed zero buffering and pixelation. In fact, to our group of viewers, the quality of the Roku and Fire TV streams seemed crisper than Comcast's, although this is likely influenced by the lower quality of the 60-inch TV itself. The fact that the streams worked well the entire game is a major accomplishment given the streaming failures we've seen at other high-profile events like the Oscars and elsewhere.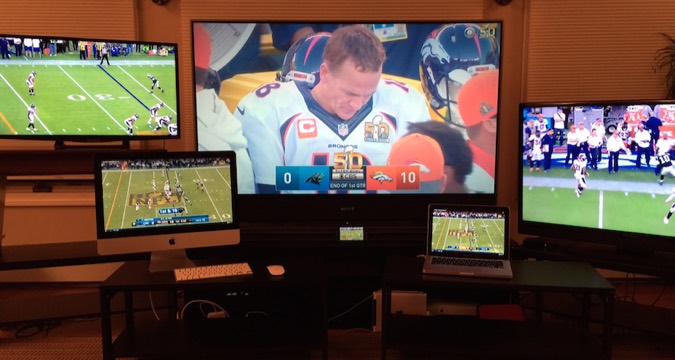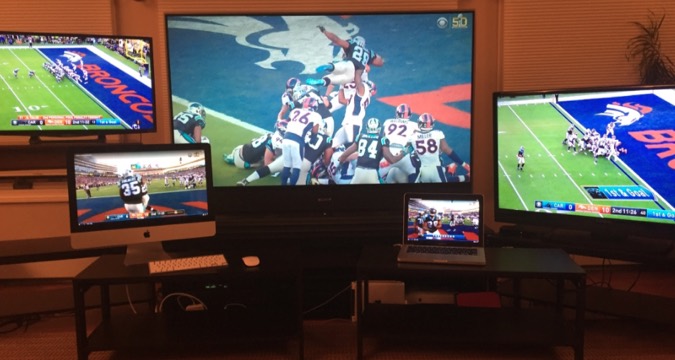 It's also worth noting how far broadband and WiFi have come that I was able to stream 5 concurrent HD feeds without any hiccups. With Comcast, my broadband ISP, I routinely receive 100 mbps in my house. My Netgear router has been flaky in the past, but seemed to hold up very well during the game.

All of that said, not everything was perfect, even beyond the latency issues. I tried connecting via my Apple TV repeatedly in the first quarter without success and finally gave up. I also could never get either my iPad or Android tablet to receive the stream. And it wasn't 100% clear upfront from Verizon whether I'd be able to stream the game over WiFi or just over its LTE network, which would have caused huge data usage (I was able to get it over WiFi).

Admittedly, my setup was neither 100% complete nor 100% representative. But it did suggest that the big game can be streamed with reliable quality, which in turn means that for the NFL, serving cord-cutters and cord-nevers over the top with a league-standard experience is now tenable. That's a big victory for the NFL as it negotiates OTT bids for Thursday night football package.

More broadly, it's another milestone in the evolution of big-time sports online. The Internet's infrastructure and viewing devices have come a long way in a relatively short amount of time. I'm long enough in the tooth to recall when it was a big deal to have video and audio in synch within a tiny player window. Today's quality opens up tons of new opportunities for both delivering sports and monetizing them.

(Update: CBS has released its Super Bowl viewership, with 3.96 million unique viewers across all devices. That's up 58% vs. the 2.5 million that NBC drew last year. Average viewers per minute were 1.4 million vs. 800K last year and 528K in 2014. And total minutes of the game viewed were 315 million vs. 213 million last year. All in all a very strong showing, though still small relative to the live TV audience).