As the annual "upfronts" - the TV industry's program preview and ad sales extravaganza - kick off today, the recent financial performance of the network TV industry and the cable TV industry continue to diverge. The cable network model, powered by both ad sales and monthly affiliate fees, is proving very durable in the Great Recession, while the ad-only network TV model has been hammered. One conclusion from these numbers is that Hulu's owners must be pushing to figure out how the site can introduce a paid subscription model.
I pulled together financial information for a select group of companies comparing performance for the recently concluded March 31 quarter vs. a year ago.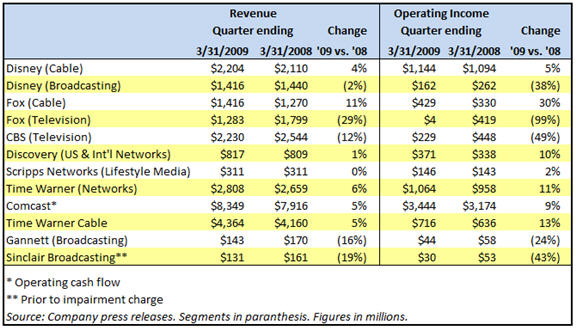 As the chart shows, operating income increased for all the cable networks and revenue was up for all of them as well, except Scripps Networks, where it was flat. The press release commentary from these cable networks was the same: affiliate revenues are up, with ad sales soft, but not disastrous. Cable operators like Comcast and Time Warner Cable also fared well in the quarter with both revenue and operating income/cash flow increasing.
Contrast this with the broadcast TV numbers for Disney, Fox and CBS, all of which operate both TV networks and own local TV stations. Disney fared the best, with revenues down 2% and operating income down 38%. CBS followed with revenues down 12% and operating income down 49%. Fox was affected the worst, with revenues down 29% and operating income down 99%. As two examples of purely local station performance, Gannett's broadcasting segment revenues were down 16% and operating income down 24%, with Sinclair's revenues down 19% and operating income down 43% (before an impairment charge). The commentary from all the broadcasters was the same: the ad market is terrible, and they're doing their best to contain costs (meaning laying off staff).
As the TV industry gears up to sell billions of dollars of ad time this week, a clear lesson from the above financial performance is that it is essential to diversify into the paid subscription ecosystem instead of relying on advertising alone. Disney, Fox and NBCU have recognized this for a while and have strongly built up their portfolio of cable networks.
With ad sales in the doldrums, it's hard not to wonder what Disney, Fox and NBCU, the three major owners of Hulu, are thinking about with respect to Hulu's own business model, which is of course currently 100% reliant on ads. I mean, if your incumbent business model is frayed, wouldn't it make sense, when essentially "starting over" online, to aggressively pursue the one that is resilient even in the recession?
Hulu's exclusive online lock on high-quality programming from 3 of the 4 broadcast networks would seem to position the company perfectly for a subscription play. If its owners looked hard at the divergent fortunes of cable vs. broadcast, it seems inevitable we'll see some type of paid subscription offering from Hulu - either directly or through distributors - sometime in the near future.
What do you think? Post a comment now.