Monday, October 16, 2017, 12:02 PM ET
|
I'm excited to share that Mike Rosen, EVP, Portfolio Sales and Strategy, NBCUniversal and Jon Stimmel, Chief Investment Officer, Universal McCann, will be our keynote speakers at our 3rd annual SHIFT // Programmatic Video & TV Ad Summit on Wednesday, November 29th in NYC.

Mike will be interviewed by Matt Prohaska, CEO and Principal of Prohaska Consulting, focusing on how NBCUniversal is innovating with programmatic. NBCUniversal has moved aggressively to enable ad buyers to use data and technology to buy its inventory. It most recently announced Target as its first self-serve programmatic client for national inventory, powered by 4C Insights. In addition to discussing NBCUniversal's own efforts, Mike will address how TV networks can embrace programmatic to compete more effectively.

Jon will be interviewed by Matt Spiegel, Managing Director, Marketing & Technology Solutions at MediaLink about how UM is driving clients' business outcomes with automation and data-enablement for video and TV ad buying. Jon will also address more broadly how programmatic is impacting agencies and what they should be doing to adapt and succeed.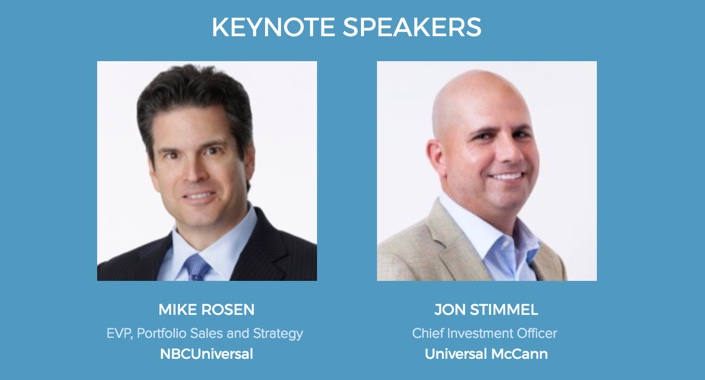 Mike's and Jon's keynote sessions highlight a jam-packed day of exciting sessions covering all aspects of programmatic video and TV. I'll be posting the full SHIFT program shortly.

Early bird registrants save $100, with all eligible to win one of three Roku Ultra 4K Streaming Players. Further discounts are available on 5-packs and 10-packs. Startups and students can register for a reduced $245 ticket (contact me for the code).

I hope you'll join us for this must-attend day of learning and networking!

Learn more and register now!