With the proliferation of available broadband video comes a massive user navigation challenge. Modern Feed is launching today to address this. It is part search engine, part aggregator, with a specific focus on indexing professionally-produced programming, not user-generated video. It's also focused on actual programs, not promotional clips.
J.D. Heilprin, Modern Feed's founder/CEO told me yesterday that the company is targeting mainstream users providing the easiest way to find available, high-quality video. It employs a team of "Feeders" charged with curating the best videos to include on the site. The result is approximately 550 "networks" and 25,000 pieces of content now indexed, where "networks" is a loose term ranging from traditional broadcasters to indies new entrants like Boston Symphony or Architectural Digest.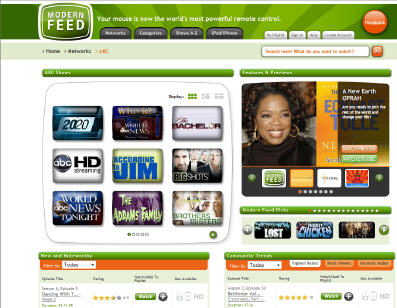 Modern Feed is rights-holder friendly, not indexing any illegal or pirated video, and playing the video from the source's site (though sometimes with a thin Modern Feed navigation frame at the top of the screen). I played around with Modern Feed and found it to be easy-to-use and well-laid out. Modern Feed also offers an iPhone implementation that looks pretty cool, other devices are to follow.
The big challenge (and opportunity) for Modern Feed is that it's entering a very noisy space where user behavior is very undefined. There are myriad video search engines (Truveo, ClipBlast, blinkx, Veveo), portals (AOL, Yahoo, MSN), navigation sites (TV Guide, recently-launched PrimeTime Rewind) and of course the networks' own sites (and syndication efforts) offering users the ability to quickly find quality content. Then there's YouTube, the first stop for many users when it comes to video. And YouTube is increasingly moving up market by striking partnerships with premium providers.
Modern Feed's strong user experience, focus on mainstream users and device integrations are differentiators for the company. Whether these are ultimately success factors really depends on how user behavior unfolds in the nascent video navigation space. Modern Feed has raised several million dollars from angels and has 30 full-timers with aggressive growth planned.
What do you think? Post a comment and let everyone know!
See prior posts:
YouTube, C-SPAN Team Up for User-Generated, Multi-Platform Voter Project