Monday, August 8, 2011, 10:13 PM ET
|
LG and technology provider Clearleap announced a partnership that will give pay-TV operators the ability to deliver video services directly to Smart TVs over broadband IP networks. Under the deal LG will integrate Clearleap's Stream On Demand solution into its Smart TVs, so that pay-TV operators can provision VOD and online video without the need for an ancillary set-top box. Clearleap has previously partnered with Roku and has also extended its capabilities to the iPad and connected Blu-Ray players.
The big advantage to pay-TV operators of these deals is that they can serve subscribers without expensive set-top boxes and truck rolls. Services can also be extended to rooms in homes that didn't traditionally have pay-TV service, increasing the value of the underlying subscription.
Coincidentally, just last week industry research firm The Diffusion Group shared data indicating that Smart TVs are now in 20% of broadband homes, and that usage is growing. TDG found that 80% of Smart TV owners used them to view online video, for an average of 4.8 hours/week, with 41% watching 1-3 hours/week, 32% watching 4-10 hours/week and 7% watching 10+ hours/week. TDG said these consumption levels are much higher than when ancillary devices are used to view online video on TVs, primarily due to improved ease-of-use.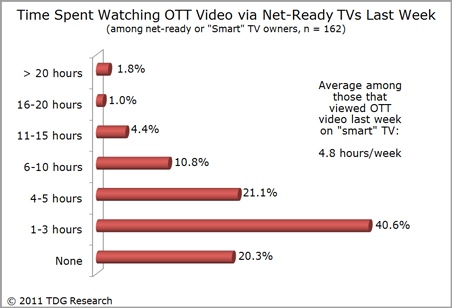 The data provides strong support that the LG-Clearleap join solution should resonate with pay-TV operators that are looking to tap into changing subscriber behaviors.