Logitech debuted its Revue connected device, offering an up-close look at the first implementation of Google TV to hit the market. I attended the press briefing in NYC; here are some of the key highlights, followed by pros and cons as I initially see them:
HIGHLIGHTS:
- Logitech Revue will retail for $299.99, which includes the box itself and a "keyboard controller" which is a lightweight combination QWERTY keyboard with a touchpad and left/right/up/down arrow controller
- Revue is available for pre-order at Amazon, BestBuy.com and Logitech.com. Delivery is expected by end of October.
- Optional accessories include an additional keyboard controller ($99.99), a "mini controller" ($129.99) which offers all the same features in a smaller clamshell form factor and a Logitech TV cam, which is a 720p HD webcam that works with Revue ($149.99).
- Apps for iPhone and Android are available free and effectively turn these devices into a third controller for the Revue.
- A one-touch search bar allows discovery across broadcast TV and online sources, both free and paid (a Google spokesperson said a new optimized content "corpus" with just relevant video is searched, not the entire web; this means you don't have to wade through a lot of typical Google results for any term you enter into the search bar).
- Search will also tap into your DVR recordings for pay-TV operator optimized set-top boxes. The only operator on board so far is Dish Network, which has a short-term exclusive deal to only work with Logitech. Dish will also retail the Revue box and the accessories.
- In addition to search, you can also navigate via menus for websites, channels, apps, most visited, and "Spotlight" which allows surfing. A "queue" feature lets you explore podcasts.
- When using the apps, voice control navigation is also enabled. We saw a neat example of searching for "The Price is Right" simply by speaking the words. You can also share a video discovered on your phone to the Revue device with a couple of clicks. Both very Jetsons-like.
- "Dual view" is a picture in picture mode that allows you to watch video in one window while searching or doing other things in the larger background.
- Flash 10.1 video is supported.
- Netflix has created an app for Google TV that looks a lot like the first version of the Roku app I'm very familiar with. Note that browsing the Watch Instantly catalog isn't yet possible, and also that Revue's search doesn't crawl the Netflix catalog to expose results for searches conducted. This type of true universal search is already available in the TiVo Premiere for example and is really valuable.
- Other apps preloaded include CNBC, Chrome, Napster, NBA Game Time and Pandora, though none of these were demo's. No social media app was demo'd either, though Twitter was mentioned earlier.
- There's a Logitech media player that allows you to access and play media files from other devices on the network
- 720p HD-quality video calling is enabled with the new webcam using the Vid HD app. This can work Revue to Revue, or Revue to PC/Mac. Less than 1 megabit is needed upstream for video calling.
- Revue uses "Harmony Link" with RF connections so that all devices currently recognized by Harmony remotes will be recognized immediately
PROS:
- It's the full Internet. Because it has Google's Chrome browser, Revue's most important pro is that offers the full Internet in a connected device. This distinguished it from others like TiVo, Roku, Apple TV, gaming consoles, Blu-ray players, etc. Admittedly, it's an open question whether people actually want to access the whole Internet or if a walled-garden of content - as the others offer - is sufficient. I'm betting that there's a solid audience of adopters available already and in the long run, most people will want to replicate the full online experience they've grown accustomed to. This is especially true when developers start creating all kinds of interesting apps that are optimized for the big screen. In the short run though, less expensive connected devices will no doubt find a ready market too.
- User experience looks straightforward and easy to use. There aren't any revolutionary hardware tricks in the Revue lineup, but they do look well thought-out and consistent with Logitech's product quality. The only exception might be the mini-controller, whose plastic clamshell top looks ready to be snapped off by anyone under 5.
- First to market. Unless we

hear from Sony

about their Google TV launch plans soon, it looks as though Logitech may have this holiday season to itself (update - Sony is holding a launch event on Oct. 12th, however Revue will still be the only standalone Google TV this holiday season). That's a big bonus for Logitech in gaining brand association and defining the Google TV proposition. Not clear yet is whether Google will do any consumer marketing to create an umbrella of awareness. If they do, Logitech will be the first big beneficiary.
- It's evolutionary. This was a point that I made in my original assessment of Google TV. I like that Logitech isn't positioning Revue as a would-be cord-cutter's dream machine. Though that might entice people looking to save money by dropping their multichannel subscriptions, inevitably because of the content that would be lost, Revue's brand message would be diluted. Instead Logitech is able to articulate a "this is an opportunity, not a threat" message to pay-TV providers. If Dish starts to get traction, expect others will take an interest in Google TV too. The reality is that Google TV surrounds current TV programming with all the web goodies people have come to expect, but on the TV. That's a valuable proposition.
CONS:
- Price. By the time Logitech's bill of materials and margin expectations were built in, it probably would have been hard to expect Revue to come in at less than it's $299 price point. However, by pricing it at a premium to others like Roku and Apple TV, Logitech is forcing prospects to find tangible benefits that are worth the extra money. I asked several Logitech representatives what the unique selling proposition would be and unfortunately none of them could clearly say. "Get the whole Internet on your TV" sounds sexy, but when forced to understand what that really gets them today, vs. what they already do online, I'm concerned plenty of prospects will be inclined to say, "I don't think I really need that just yet." New consumer products are most easily understood and adopted when there's a clear killer app. It's not mandatory, but it's extremely helpful. Google TV's is surely "get all your content in one interface" we'll see if that's a killer.
- Content. How much content is available on Revue is hard to answer, because technically everything that's on the web should be available. However, the issue arises that if it isn't optimized for Google TV, with better metadata and possibly formatting tweaks, it may not be discoverable by Google TV or be difficult to find. For example, I did a search for "Lost" and all I got were options to buy episodes on Amazon VOD, not any of the free ones available at ABC.com. Then there's the lack of Netflix integration in universal search, which means if you're a Netflix subscriber, you automatically have to expect to do one Google TV search and another Netflix search to find what you may be looking for. Lastly, the Logitech spokesperson confirmed that Hulu is indeed blocking Google TV at this point (no surprise). That means all shows on Hulu are effectively outside Google TV's reach. Arghh.
- Competition. The connected device space is still nascent, but there are already a lot of choices and it's confusing for ordinary consumers who aren't fully immersed in the minutiae, making it harder for Revue's "boil the ocean" strategy to stand out. In addition, the context here is that lots of people are resistant to add any new box to their TV rack simply out of concern for complexity. Then there's the issue of a keyboard in the living room which many will resist, preferring more conventional remotes. It's going to be a very noisy holiday season for connected devices and brand and promotion are going to matter a lot. Logitech is a well-respected brand, but other than the Harmony remote control products, it's new to the living room. Contrast that with Apple, whose name is ubiquitous. Still, Apple TV's value proposition is extremely limited compared to Revue, so that will help Logitech.
SUMMARY


Overall, the Logitech Revue is an exciting product if for no other reason because it raises the stakes in the entire connected device category. It will pull online video viewing further into the mainstream, allowing online-only sources to gain equal footing with traditional TV and movies for on TV viewing. That's a boon to independent producers and the ecosystem as a whole. In addition, by offering new experiences like the HD video calling and voice-controlled navigation, Logitech is providing an enticing view into what the future will look like. Like all new consumer products though, it's impossible to predict how well it will sell. Regardless, as subsequent generations of the Revue are released, Google TV is poised to eventually succeed.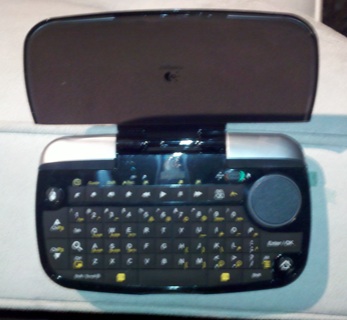 What do you think? Post a comment now (no sign-in required).