The Internet's low entry barriers are again at work, this time in the video-based "how-to" category, which has recently attracted a rush of well-funded new competitors. It's no surprise: how many of us would rather watch a video of someone explaining how to do something vs. reading a lengthy and often poorly-written guide?
Like many things in the broadband video world, the players' strategies, content approaches and business models are all over the board. In the ad-supported category, the earliest entrants (and their funding) are ExpertVillage (now owned by Demand Media) and VideoJug ($30M from last May), with HowCast ($8M from Tudor/others), 5Min.com ($5M from Spark Capital) and WonderHowTo.com (undisclosed amount from General Catalyst) launching more recently. Of course there's also YouTube and DIYNetwork from Scripps, with its sister cable channel, and scores of other sites that offer free instructional video. Then in the paid download category there is Zipidee (angel round), which recently acquired TotalVid and iAmplify ($6M from Kodiak). plus countless other video download sites.
One of the lines of demarcation for the ad-supported sites is how they acquire content. Does the video come solely from "experts" or also from the community? For now, it appears that ExpertVillage and VideoJug rely on experts while the other ad-supported upstarts rely on the community as well. I spoke with Ran Harnevo, CEO of 5Min.com, who believes its highly community-oriented focus is a real differentiator. In fact, 5Min bills itself as a "Life Videopedia", a spin on the hugely popular Wikipedia, which demonstrates the power of user contributions.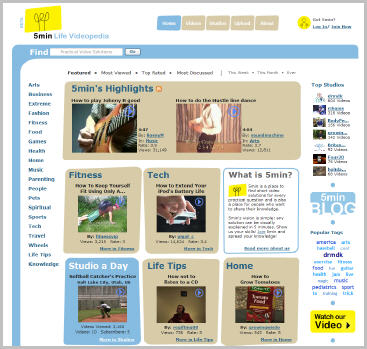 The whole notion that a top-down editorially-driven approach will ever be sufficiently comprehensive seems unlikely, so my guess is that some UGC augment eventually will be required by all players. That means these sites will compete with each other for the best contributors, in the same way that video sharing sites like Metacafe, Veoh, Revver and others compete with each other in general video.
To succeed in this horse race, 5Min's focus is to offer the best overall platform, including a focus on technology. So 5Min provides strong branding opportunities, a revenue share, tools and features and of course, traffic. On the technology side, one differentiator is its "SmartPlayer", which allows zooming, super slow-motion, frame-by-frame and storyboard playback.
One of the main reasons there's so much activity on the ad-supported side is that how-to videos provide highly-targeted and engaged audiences that sponsors crave. At a minimum, marrying these how-to videos to Google AdSense provides a baseline revenue model. But the real opportunity is to aggregate enough traffic in a category to land sponsors who will be prominently featured. So for example, while 5Min already does an impressive 5M views/mo, it will likely need to be in that range per category to appeal to big-name sponsors. The company will begin running ads in Q2, and is focused on display ads and overlays, not pre-rolls, which Ran thinks are too disruptive. To build its traffic it will pursue widgetization, 3rd party distribution and SEO.
All of this how-to activity is clearly going to be a boon for users. Just as the Internet has provided an explosion of information, these video how-to sites will now make doing things a whole lot easier. How to break out of the growing pack will continue to be each how-to site's challenge for the foreseeable future.