Today marks the "official" launch of HBO GO - the premium cable network's authenticated TV Everywhere service - on mobile devices running iOS (iPad, iPhone, iPod) and the Android OS, although it has been technically available since late last week in the iTunes App Store and Android Market. HBO signaled May 2nd as the date of availability in a teaser video posted last month on YouTube, and I'm guessing a press release will be forthcoming.
With the iOS/Android rollout, HBO has taken a necessary, but insufficient step toward improving its standing in a world that has grown dramatically more competitive in a very short time. HBO GO, which is only available to HBO subscribers, and even then, only to those whose pay-TV operator has a deal to authenticate HBO GO, is narrowly focused on delivering more value to those who have already chosen to subscribe to HBO. As HBO co-president Eric Kessler told the NY Times in February, "It's about enhancing the satisfaction and continuing the life cycle of the subscriber."
No question, access to virtually all of HBO's library on iOS/Android devices is meaningful, and for the 28 million or so U.S. homes currently subscribing to HBO it's a real bonus at no extra cost. The iPad in particular is the big focus here, as its phenomenal success has made it a magnet for video content producers and aggregators.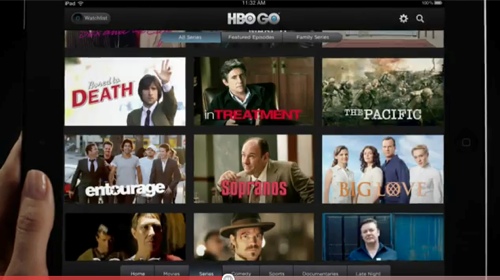 However, the problem is that the move is largely defensive, and does nothing to address HBO's bigger strategic issues, which I laid out in March in "Could HBO be the Next BLOCKBUSTER?" HBO is a relatively high-priced service that can be accessed only by those who have already subscribed to high-priced basic pay-TV services that themselves are getting more expensive all the time, largely due to a handful of disproportionately costly sports-oriented cable networks. The affordability issue is compounded by very real budget constraints many American households are experiencing. Adding to HBO's challenges, Netflix, the king of the over-the-top market, which now grown to 23.6 million subscribers, is available for an extraordinarily low price starting at $8/mo, offering entertainment-focused consumers a more accessible high-quality alternative.
Netflix's direct-to-consumer approach exposes the downside of HBO's reliance on pay-TV operators. HBO's DNA is in this model, but by not adapting to new realities, it is running a high risk of being marginalized. Consider - HBO GO currently counts just 7 of the country's pay-TV operators - Comcast, Verizon, Cox, AT&T, DirecTV, DISH and Suddenlink as authentication partners. Granted, they account for approximately 70% of U.S. pay-TV homes, but that means less than 20 million HBO subscribers can likely access HBO GO today on iOS/Android devices. So for now, HBO GO is irrelevant for around 80 million U.S.
pay-TV
homes. Meanwhile Netflix is not only promoting itself to

all

U.S. (and Canadian) homes with a broadband connection, it's preparing to move away from the "home-as-subscriber" model altogether, offering its service to individuals, which will vastly expand its addressable market (e.g. think about all those 20-somethings living in shared apartments, each with their own computer).
I continue to maintain that regardless of its award-winning programs, HBO has serious competitive issues that have not yet started fully playing out. HBO GO on iOS/Android devices is great, but it's not a game-changer. Last week, Time Warner CEO Jeff Bewkes' unexpected complimentary remarks about Netflix may be a harbinger of a streaming deal between HBO and Netflix, which, among other potentially more aggressive initiatives, couldn't come a moment too soon.