Thursday, October 29, 2015, 11:13 AM ET
|
YouTube Red was announced last week and became available yesterday. After taking it for a spin on my iPad (note, access for subscribers is included in the YouTube app), I'm pretty convinced that the current offering is unlikely to gain any significant traction. To be fair, there are more benefits coming to YouTube Red in the near future, but even with those, the service is unlikely to appeal to more than a small number of YouTube users.

YouTube promoted the primary feature of YouTube Red as ad-free viewing. For sure, watching YouTube without ads is an improved experience, but as I wrote last week, because YouTube's skippable TrueView ads are already so viewer-friendly, the marginal improvement from not having to click "Skip Ad" doesn't end up feeling like a big breakthrough, especially for viewers used to YouTube being free.
Beyond most YouTube ads being skippable, the reality is that the ad load on YouTube is far lower than during TV programs. Videos on YouTube are typically short-form so there's usually no more than one skippable preroll and maybe an overlay or two which can also be easily closed. This is a huge contrast with long-form TV programs, where ad pods often seem interminable and viewers hunger to skip them. This is partly why inexpensive ad-free SVOD services like Netflix have achieved huge success.

YouTube Red does include a benefit which I think could actually add a ton of value, which is downloading for offline viewing. VideoNuze readers know I'm very bullish on downloading because it opens up an entirely new video use case when not connected to the Internet (e.g. in airplanes, etc.) or when connectivity is shaky or in order to minimize expensive mobile data plan usage. Amazon recently improved its downloading feature, and while Netflix is still a non-believer, I think there's a lot of upside, if executed and messaged properly.

Unfortunately YouTube Red does neither. In the iOS app you wouldn't even know the downloading feature existed unless you scrolled to the bottom of a video's page and noticed a small icon with an arrow pointing down. There's no "What's this?" or anything to promote it. After clicking on the icon a "Saving Video" message flashy briefly and the icon starts animating. But there's no graphical representation of percentage or time to complete.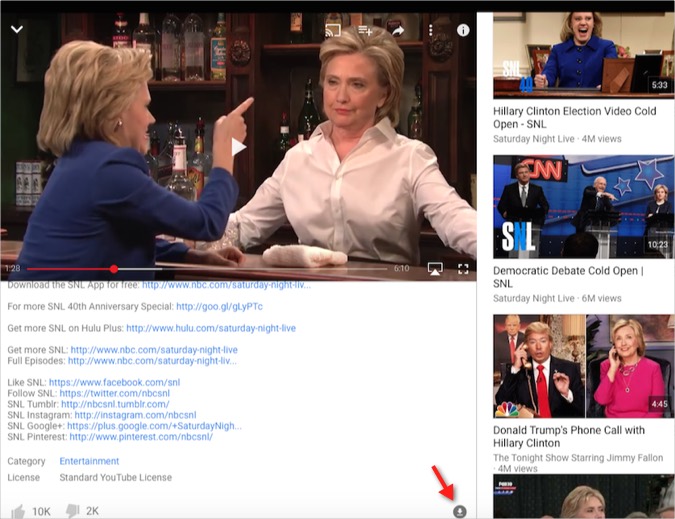 I tried it a few times and it spun infinitely, making me wonder if it was hung up (how long can it take to download a 1 1/2 minute video?). Eventually the icon changed to a small blue circle with a checkmark. Then when I went to the Saved Videos section I saw that my videos were indeed available for offline play.

The downloading feature is so subtly presented and incompletely executed that it almost feels like an afterthought. Contrast this with Amazon's Prime Video app, where the downloading option is presented right next to the play option for an episode and downloading invokes a bright orange progress completion bar. Or TiVo downloading, which not only displays a progress completion bar, but also the approximate time left to complete.

Downloading could be a big deal in YouTube Red, enabling teens/millennials in particular to carry around with them on their smartphone a library of favorite videos to show friends, regardless of connectivity quality or concern about eating up their parents' data plan. I believe this would enhance the value of paying $10/month for YouTube Red. But YouTube seems oblivious to this benefit, barely merchandising the download feature at all.

In fact, the biggest current selling point of YouTube Red actually has nothing with YouTube at all; it's the inclusion of access to Google Play Music, which itself carries a standalone $10/mo subscription and competes with similarly priced ad-free alternatives like Apple Music or Spotify Premium. In effect, YouTube Red today is more about music than it is about an enhanced video experience.

Again, this might change in the future, when YouTube includes access to originals in YouTube Red as well as YouTube's own music service. But for now, unless you're signing up primarily for Google Play Music, YouTube Red seems like a relatively weak value proposition and is unlikely to attract many subscribers.