The trend toward widespread video syndication to small-to-medium sized web sites continues to gain momentum.
Two recent initiatives - plus others I expect are still to come - point to the increasing likelihood that broadband video's eventual distribution model will look far different from traditional, tightly-controlled approaches. I'm becoming more convinced that "syndicated video economy" concept I sketched out in March is where the market is heading.
The first initiative, covered in a recent NYTimes article, "Google and Creator of 'Family Guy' Strike a Deal" suggests that Google may finally be ready to point its powerful AdSense engine toward video distribution.

AdSense, as many of you likely know, essentially created a "long tail of advertisers" by dispersing targeted pay-for-performance keyword-based ads to tens of thousands of small-to-medium sized web sites. Including Google Ads has become a no-brainer for many sites seeking to easily pick up a few extra bucks by allocating some on-site real estate to AdSense.
Now instead of distributing ads, Google is looking to take the AdSense model a step further by distributing video content (along with ads) to myriad web sites hungry for video, and cash. First up are comedic webisodes from Seth MacFarlane (creator of Fox's "Family Guy"). Google's proposition to small, and even larger sites, makes sense: we'll give you free high-quality video content, all supported by pay-for-performance ads. You get great content and can make money at it. What's not to like? Not much in my opinion. It seems like such a compelling model that one wonders why Google hasn't done this earlier. In fact, they did. Back in August 2006, Google announced a test with MTV to do exactly the same thing (the ensuing YouTube-Viacom litigation no doubt scotched the test). Hopefully this time around Google will have more luck.
Meanwhile, hyper video syndication is not just for the mighty like Google. Consider Jambo Media, a two year-old company with 12 employees which has built out a syndication network now generating over 2 million video views per day. Web sites like BestCelebGossip.com, Epigee.org and MensTech.com may not be household names, but, as Jambo's CEO and co-founder Rob Manoff explained to me, they are representative of virtually unlimited long tail web publishers eager for video, but unable or unwilling to create it themselves.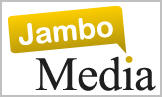 Rob and his team of ex-affiliate marketing and advertising veterans have created the Jambo Video Network by licensing video from sources such AP, iVillage, Ivanhoe Broadcast News, and then packaging them into "channels" for distribution in a Jambo video player. Of course ads come along with the video content (though Jambo has a separate ad-free "JamboCast" white label solution in the works too).
Affiliate sites can login to their Jambo account to select which channels to receive while customizing the look and feel of the video player. Over 100 sites have affiliated, which Rob believes will grow to several hundred by the end of '08, driving a projected 5 million views/day. Rob said that sites earn $2-4 effective CPM with revenue per day ranging from $10-30 on the low end all the way up to $1,000/day on the high end.
Jambo is pursuing a space that syndicators like Roo, Voxant, ClipSyndicate, Newsmarket and others have been in for a while. All of these players, along with now Google, are doing what Rob articulates well: creating video ad inventory where none previously existed. Such is the power of syndication in the frictionless Internet environment. And why smart content providers - from startups to established TV networks - are recognizing that increasingly, syndication is where the broadband market is heading.
Note: if you want to learn more about syndication and how one big content provider is succeeding with it, please join me for a webinar entitled, "Profiting from the Syndicated Video Economy." The webinar is sponsored by Akamai and will feature a presentation from Greg Clayman, Executive VP, Digital Distribution and Business Development, MTV Networks and me. Registration is free.