Thursday, February 20, 2020, 11:13 AM ET
|
I'm excited to announce the first 7 partners for the Connected TV Advertising Summit on June 11th in NYC. Our Presenting partner is Deloitte; Gold partners are Extreme Reach and SpringServe, and Silver partners include Beachfront, Roku, SpotX and Xandr. I'm extremely grateful for all of these leading companies' commitments to the CTV Ad Summit. There are a lot of other partner discussions underway, and I'm confident we'll have participation from just about every significant CTV company in the industry.

The CTV Ad Summit is shaping up to be the #1 event for executives from brands, agencies, content providers, technology companies and other stakeholders seeking a deep-dive day of learning and networking focused on CTV advertising. The agenda is coming together nicely with a strong balancing of sessions that are focused on the longer-term strategic role of CTV in the TV/video ecosystem and those that are focused on the here-and-now operational aspects of succeeding with CTV ads today. More coming soon on initial speakers and sessions.

Meanwhile, early bird discounted registration is available. Early registrants save $100 per ticket. Further discounts are available for students, startups and media partners (to be announced soon). 5-pack and 10-pack tickets are also available at further discounts.

If the future of your business is tied to the growth and success of CTV* advertising, then the CTV Ad Summit is a must-attend event.

Please contact me if you'd like to learn more!

LEARN MORE AND REGISTER NOW!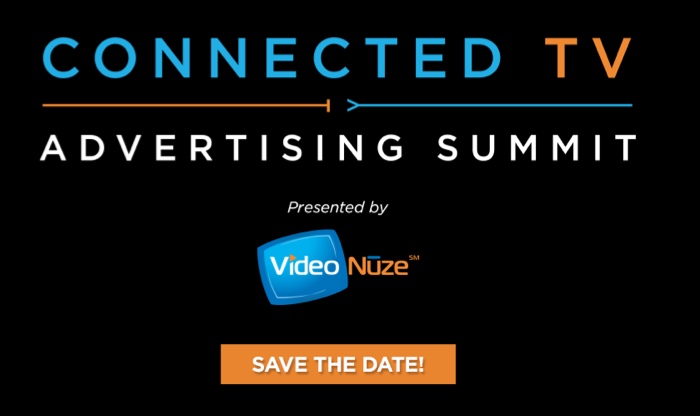 *Connected TV (CTV) refers to any TV that is connected to the Internet and can play OTT video content/ads and also display graphical ads. CTVs have the capability to return user data to device manufacturers, content providers and ad buyers. CTVs support secure transactions such as subscriptions and e-commerce.

Examples of CTVs are smart TVs as well as TVs that are connected to the Internet via streaming media players/sticks (e.g. Roku, Fire TV), gaming consoles (e.g. PlayStation, Wii), DVRs, pay-TV operators' IP set-top boxes (e.g. X1) and other devices.