"Widgets" are an area that VideoNuze hasn't really touched on to date, yet they are quickly proving to be a potent way of distributing content in general and video in particular. I was pleased to get an email recently from Jimmy Hutcheson, president and founder of EgoTV, a broadband content startup, who wanted to share some details on their success distributing their "Malibu U" program through Clearspring's widget platform. In a subsequent call with Jimmy and Bill Rubacky, who leads Clearspring's marketing, I got a better handle on how the model works.
For those of you not familiar with widgets, they are small chunks of HTML code that essentially create a container into which content can be continuously pushed. Widgets have gained widespread popularity with the rise of web 2.0 social networking sites like Facebook and MySpace, as users can select different widgets for embedding in their personal pages. This allows both the user and visitors to easily view content there. A user can also embed widgets in personal content sites using PageFlakes, iGoogle or others, or can use widgets right on their desktop.
Content providers view widgets as a low-cost opportunity to dynamically distribute content to opted-in audiences. Similarly, advertisers look at widget advertising as an opportunity to reach targeted, engaged audiences.
As an example, EgoTV is now distributing "Malibu U," through Clearspring's widget and its site. Getting the widget is simple, you just click on it, find the social media platform to which you want to embed the widget and go. Jimmy explained that about 50,000-75,000 unique visitors/day can now see his widget. He's able to track video traffic across all places the widget is embedded and when he pushes a new episode, users are automatically notified. I put the widget on my rudimentary Facebook page and this is how it looks: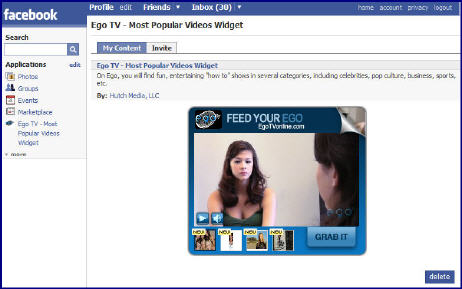 From an advertising standpoint, you'll notice in the upper right corner a little peel-back flap, which is one of the ways that Clearspring implements advertising. (In fact, VideoEgg's new AdFrames approach unveiled yesterday uses a similar peel-back, which in turn links to Clearspring's widget sharing capability.) Widget ads can work in all kinds of ways, including banners, pre/mid/post-rolls and overlays.
Clearspring's play is to create a "Widget Ad Network" by aggregating the content flowing through its widgets. With 4 billion pieces of content served through its widgets each month and working with many of the top 100 publishers, Bill explained that it is able to offer targeted inventory to media buyers who want to tap into the web 2.0 world.
In short, widget platforms from companies like Clearspring provide both large content providers and smaller ones like EgoTV yet another way of reaching and engaging their fragmented audiences on their terms. I fully expect more content companies, especially early stage ones looking to gain an audience toehold, to take advantage of this low-cost distribution option. Widgets will take their place as yet another distribution choice in the rapidly-evolving "syndicated video economy."