Wednesday, March 11, 2020, 12:23 PM ET
|
Effectv, which was recently re-branded from Comcast Spotlight, has released a new white paper, "OTT and Its Place in the TV Ecosystem." The paper is yet another reminder that linear TV and OTT (or online video or CTV or digital or whatever one's preferred term is) are complementary. Effectv presents a slew of data and case studies illustrating how linear TV still accounts for most viewing time for most viewers, so it should be foundational to any campaign plan. But in order to achieve incremental reach with non-linear viewers (who are typically younger), OTT advertising is essential.

The paper's thesis is of course correct at a high level - though as linear TV continues to decline across all age groups, it becomes slightly less correct with each passing day. But at a deeper level, focusing on younger viewers in particular, the paper could be written in the inverse - that OTT advertising is the foundation to reach this audience and linear (especially sports) would be the complementary part of the campaign. There are plenty of DTC brands that would gladly be case study examples for this approach.
In fact, Effectv cites Nielsen's Total Audience Report data for Q3 '19, showing that whereas 83% of daily video usage for 50-64 year-olds was still live/time-shifted TV, for 18-34 year-olds it was just 43% with all the rest - 57% - happening on CTVs and other digital devices. By late this year, maybe less than 40% of 18-34 year-old's viewing will be live/time-shifted. (One caveat to note here - linear/time-shifted viewing can happen on CTV and digital devices as well, via virtual pay-TV like YouTube TV, etc.)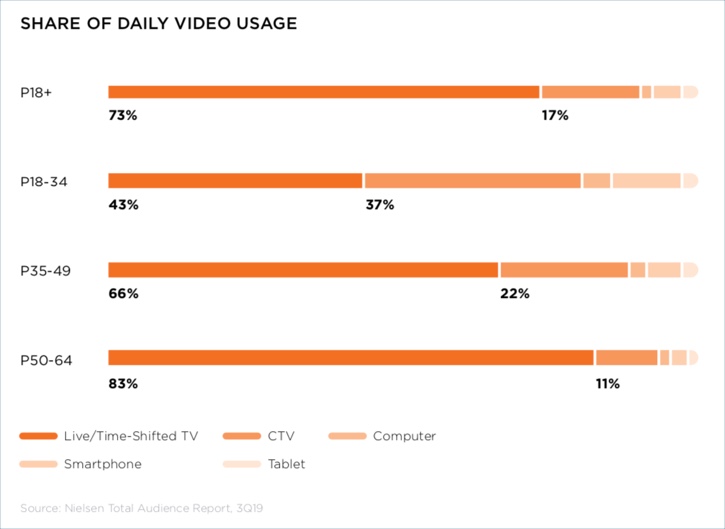 The whole topic reminds that what's known as "Miles's law" - "where you stand depends on where you sit" is alive and well in the TV/video advertising industry. It's one of my favorite explanations for how the world actually works. In the example of the Effectv white paper, it is no surprise that the "linear is foundational" approach has been taken; after all, most of Effectv's inventory comes from linear TV, and Effectv's parent, Comcast, with operations across pay-TV, broadcast and cable networks, is arguably the company most invested in linear (though Comcast is doing plenty to mitigate this).

Back to the substance, it's been nearly 6 years(!) since I wrote "Putting the Silly Debate Aside: Online Video and TV Advertising Are In Fact Complementary" in response to a sketchy WSJ article fueling the online video vs. TV narrative. At that point it had already been 2 years since January, 2012 when I wrote about a study YuMe (RIP) and Nielsen authored around "TV 2.0" which spelled out very well the "video and TV are complementary" argument.

Here we are in March, 2020 having the same discussion. For anyone with a stake in the incumbent TV world, it's taken on more urgency due to the rise of CTV, hours shifting to OTT viewing, "Peak TV" and record-level of cord-cutting. Yes, linear is declining, but it's not yet dead. And with this week's $6.3 billion rights deal for PGA Tour golf, the demand for live sports programming seems as strong as ever.

Given all this, it seems like it would be more fruitful for everyone if more time was spent focusing at the client/campaign level, not at the 50,000 foot level, when having the linear/OTT debate. In other words, if the client is targeting younger audiences, OTT is likely the foundational part of the campaign; if it's targeting older audiences then linear is likely foundational. And yes, the Super Bowl is the exception, it is foundational (for now at least) for everyone, assuming you can afford to buy it.

In the meantime, have a look at the Effectv white paper. It's well-done and rightly keeps the focus on the complementary nature of linear and OTT. Just keep in the back of your mind as you read it who your audience is.