Tuesday, April 20, 2010, 9:54 AM ET
|
A new ad unit announced by Discovery and PointRoll and called "Dig@torial" (pronounced "digitorial") caught my attention a few weeks ago, and I've been meaning to write about it since. The unit intrigued me because it dynamically leverages Discovery's video library to enhance an advertiser's message in an easy-to-navigate rich media banner. I hadn't seen anything quite like it before and believe it is yet another indicator of how content and ads are blurring into one seamless experience.
To learn more, I talked to Michael Aronowitz, VP of Channel Development at PointRoll, which is owned by Gannett, and Brent Spitzer, VP and Leigh Solomon, Manager of Activation, both at Discovery Digital Media Advertising Sales.
PointRoll worked with Discovery to build a shell in the requested leaderboard and 160x600 skyscraper formats. In these examples 50% of the space promotes Montana Office of Tourism specifically and the other 50% offers opportunities to engage with Discovery content. When you roll over the ad it unfolds to show a mosaic of photos to look at in the Montana space (plus a link to visit www.visitmt.com), and a choice of relevant articles and videos from Discovery's library in its space. A video begins playing in-banner automatically with 4 thumbnails exposed below, plus a link to view more on a customized landing page. The videos play with a 10 second pre-roll for Montana that is frequency-capped.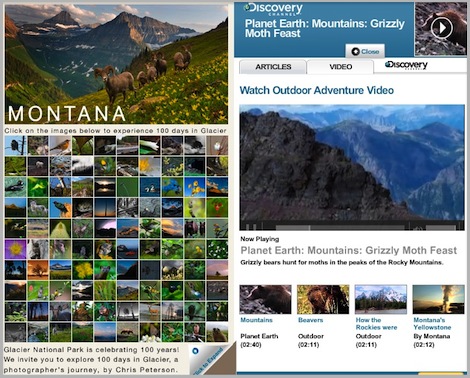 Brent and Leigh explained that with the Dig@torial, Discovery works collaboratively with its advertising clients to select the most relevant content to incorporate into the ads. Discovery's team combs through its archive of video clips and proposes a playlist to the client. If the client has its own video that can be incorporated too. The video is fed dynamically into the Dig@torial unit, so it can be updated at any time. The key to making all this possible for Discovery is that it owns all of its programs, so it has a free hand to carve them up and integrate them into ads like these.
It's still early for the Dig@torial unit, but it appears to be succeeding. Michael said that the benchmark "interaction rate" for the PointRoll network (which is the first time someone interacts with a PointRoll ad) over the last 1 1/4 years is 6.4% with a 14 second engagement time. The Dig@torial press release says that regular rich media ads on Discovery's sites exceed the PointRoll benchmark by 70% and that the Dig@torial ads provide another 50% lift. That would imply an approximately 16% interaction rate and 36 second engagement time, both of which are very strong. Attesting to the Dig@torial's appeal, Brent and Leigh said that Dig@torial campaigns for 8 other clients have also recently launched or are being launched (I combed through Discovery's sites, but wasn't able to find them though).
Brands and sites are perpetually trying to identify ways to increase user engagement and conversion. By blending client messages with relevant and strongly branded content, the Dig@torial unit is breaking new ground in delivering value to all parties. It's also a reminder that for content providers, it's worth trying to secure re-use rights to programming and then archiving and tagging them for subsequent retrieval. Dig@torial is showing that content's value can extend well beyond its initial airing.
What do you think? Post a comment now (no sign-in required).