Thursday, November 16, 2017, 11:38 AM ET
|
It's no secret that connected TV devices have made huge gains in the U.S., with penetration at 60% of homes or more depending on the research source. But whereas these devices were initially used mainly for streaming Netflix and other ad-free SVOD services, evidence is building that viewers are also now using these devices to watch ad-supported video, in turn driving a huge expansion of ad inventory.

For example, Roku has been saying for a while that Netflix's share of overall Roku users' watch time has been steadily decreasing, with ad-supported channels gaining. And today, Beachfront Media, a video supply-side platform, said that it saw a huge jump in CTV ad requests to over 2 billion in Q3 '17. Beachfront works mainly with mid-tail and long-tail video providers like WatchMojo, Newsy and Crunchyroll.
Beachfront's CEO and founder Frank Sinton told me in a briefing that the company has seen completion rates of 97% and viewability of 100% on CTV inventory, the 2 main performance indicators buyers focus on. Measured CPMs are also 3 times higher on CTV than on mobile video and aren't showing any signs of softening as CTV inventory continues to be in short supply relative to demand.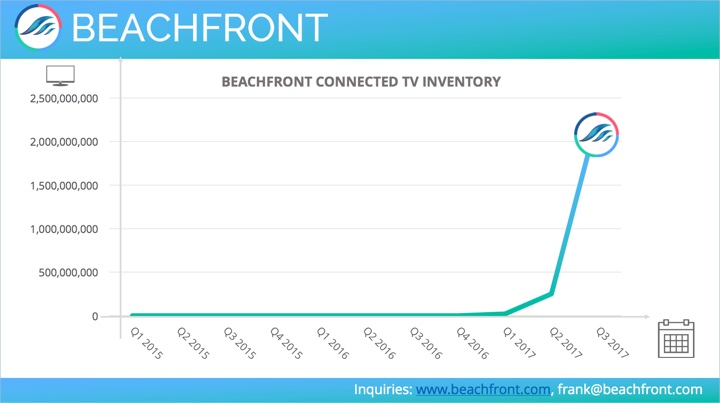 While CTV combines the best of the big screen experience with the best of digital targeting, Frank said it's not yet clear to him which budgets CTV spending is coming from, TV or digital. However, he did say that anecdotally he's hearing more and more interest in CTV and that 2018 is shaping up to be a strong growth year.

(Note: Frank will be speaking on the innovation session at our 3rd annual SHIFT // Programmatic Video & TV Ad Summit on Wed., Nov. 29th in NYC. Learn more and register now!)