Friday, November 30, 2007, 10:23 AM ET
|
Next week ClipBlast, a player in video search space, will announce that is has launched a beta of its 3.0 product. It's actually now live and I've had a chance to play around with it for the last couple of days. I also got a briefing and demo when I met up with Gary Baker, ClipBlast's CEO, at Digital Hollywood a few weeks ago.
Video search has been a murky, yet fast-evolving area. You have to get way down into the weeds to fully understand the nuances, but here is the gist. First, video isn't nearly as searchable as text is. Video search primarily relies on metadata, which describes what's inside the video itself. This metadata can be created by the content provider or by the video search engine itself using techniques like speech-to-text processing. A key challenge for video search engines has been returning results in which the context matches what the user was intending. This is no easy feat, as the same word can obviously be used in many different contexts, yielding lots of useless results.
ClipBlast's 3.0 beta is crawling 10,000 different video providers now and they've continued to make many enhancements to their metadata processing. They've also done a lot of work to improve user navigation so that browsing is a viable complement to search. (This gets to how users actually interact with video search engines, which is yet another issue in the video search world). ClipBlast now places all videos into 70 different categories, which have easy scrolling thumbnails, showcases featured clips and featured partners and today's most popular searches.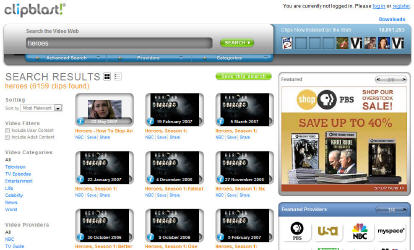 ClipBlast has also introduced more personalization features such as saving providers, categories, searches and results. You can also configure your own personal home page and set email alerts for when new video matching your search criteria. Perhaps most fun is a new widget feature, allowing ClipBlast widgets to be embedded on your desktop and blog with customized video. Gary demo'd this for me and it's quite cool. It's only available for Macs right now with a PC release coming soon.
I'm planning a deeper dive into video search in December and will have more detailed analysis on the category then. In the mean time I suggest the best way to get into it and evaluate which video search engine is best for you is to run the same search across some of the more popular video search engines. A good list would include: Truveo (now owned by AOL), Google (still officially in "beta"), blinkx, SearchForVideo, EveryZing, Dabble, Pixsy, Fooooo and others I'm sure I'm missing.
I'm interested in what you find, so please post a comment or email me.