Citysearch, the big online local information company, is making an aggressive push into video. The company is currently running a new promotion which allows its merchants to have a complimentary video made for them, which enhances their Citysearch listing, and can also be used on their own web site and on YouTube.
I'm always on the lookout for ways video can drive more revenue, and Citysearch's effort (originally begun in early '07) qualifies on at least two levels. First, it's a valuable enhancement to Citysearch's pay-for-performance ad model, increasing the ARPU the company derives from its merchants. Second, it appears to be a bona fide differentiator for merchants in helping them attract new business. And of course it helps deliver on users' growing expectations for video experiences.
Last week I spoke with Brian McCarthy, Citysearch's VP of Merchant Product to learn more about how the program works. I also spoke to Marc Edward, who runs Marc Edward Skincare in West Hollywood, CA, which is a merchant that's been offering video in its Citysearch listing for over a year.
Under the current promotion, Citysearch will make a 60-90 second video for its merchants for no cost to them. Citysearch has partnered with 3 production firms, TurnHere, StudioNow and GeoBeats to produce the video, which Brian said cost under $1,000 apiece. The merchant is involved in the editing process and then the video is added to the merchant's listing. When a user watches the video for at least 10 seconds, the merchant is charged a fee ranging from $.40 to $2.00, as part of Citysearch's "multimedia package."
Marc was one of the early users of Citysearch video and is quite enthusiastic about the results. He feels that nothing can convey what his business is about better than prospects actually seeing him talk about it, and explaining what they can expect. While he hasn't tracked new business directly to the video he offers, anecdotally he said new clients mention and cite the video as a major reason why they chose his shop over others.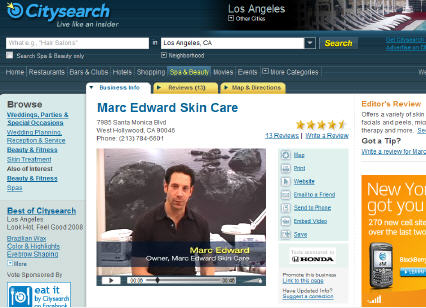 While it's still early days for video enhancements in local listings/search results, it seems like a natural way to extend the model. Other local players like WorldNow, CBS and other broadcasters are on to this as well. The key is getting the financial model right for all parties: who pays to get the video made and how it generates a return over time. Citysearch seems to be making progress proving how the model can work.
What do you think? Post a comment now.