I've been very intrigued by two recent announcements from Adconion, which bills itself as the largest independent online advertising network.
First, in early October, it announced "AMG-TV," a video content syndication network now called "Adconion.TV" as well as its first deal, to distribute Vuguru's "Back on Topps." Then last week it acquired KTV Digital Media, a production studio and syndicator, to become a wholly-owned subsidiary called RedLever. Late last week I got a briefing from Adconion CEO/founder Tyler Moebius and Reeve Collins, CEO RedLever to learn more.
My take is that Adconion.TV/RedLever is emulating the same model as Google Content Network, except with a couple of interesting twists (for more on GCN, see "Google Content Network Has Lots of Potential, Implications"). Nevertheless, both are classic Syndicated Video Economy plays, which could have a huge impact on the fundamentals of broadband video's future business model.
For those not familiar with Adconion, it says it reaches 260M unique visitors/month, second only to Google.

Traffic is about evenly split between the U.S. and the rest of the world. It has 800+ publishers in its network, including 60-70 that it represents exclusively, primarily for international sales. The company made a big splash earlier this year when it raised a monster $80M round led by Index Ventures (the lead investor in Skype among others). It has grown from 30 employees in '06 to 285 in '08.
The similarities between Adconion.TV and GCN are as follows: both believe their vast network of publisher web sites - which were initially built to serve ads - can now be modified to also accept high-quality syndicated video content. Each leverages the same algorithms it used to optimize which ads to insert, so that video too will only be served to the most appropriate sites. One might think of both these companies as being in the real estate business. Each has colonized vast tracts of web property and is now trying to identify, as real estate pros would say, the "highest and best use" of its inventory: ads, video or some combination of the two.
At the core of both Adconion.TV and GCN is the conviction that content should be brought to users wherever they may live, as opposed to attempting to drive them to a destination site, a la the "must-see TV" model of old. This has been a key tenet of the Syndicated Video Economy concept I've been fleshing out in '08. With the fragmentation of users over the web, social networks, mobile devices, gaming consoles, etc. the way to build a franchise is to propagate video into all of the web's nooks and crannies. Note others like Grab Networks, Syndicaster, 1Cast, Jambo and others are also heavily pursuing the syndication opportunity, each with their own competitive angle.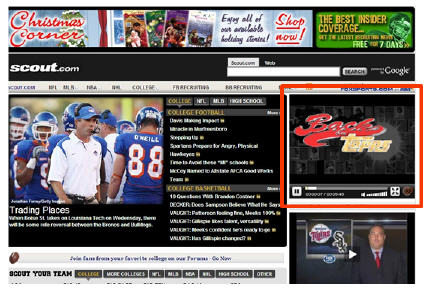 In both initiatives content-distribution-brand advertising are the three legs of the business model stool. Consider: in Adconion.TV's launch deal it was a package of Vuguru/Back On Topps (content) - Adconion.TV (distribution) and Skype (brand), while GCN's was Seth MacFarlane/Cavalcade of Comedy (content) - GCN (distribution) - Burger King (brand). I asked Tyler whether this three-legged stool is the model for independent broadband content (whose nascent studios have been slammed by the down economy) to be funded in the future, he emphatically replied "yes."
This highlights one key difference between GCN and Adconion.TV. Google of course has been very clear in steering away from content creation, consistently declaring it's "not a content company." Adconion, on the other hand, specifically intends to custom produce brand-infused broadband video programming. That's where the KTV acquisition comes in. Tyler explained that it is deep into talks with numerous agencies and brands about creating programs that showcase the brand sponsors. Two deals are expected to be announced soon.
Another difference is that GCN tried to drive traffic back to YouTube to incent users to subscribe to ongoing program updates and get exposed to other related programs. In my GCN post, I wrote enthusiastically that the marriage of AdSense-powered video distribution as the "spokes" with YouTube as the "hub" was formidable because it gives GCN a mechanism to build ongoing viewership beyond the first exposure at the publisher site.
Today Adconion lacks a comparable destination site. Tyler doesn't think that's important since it offers ways to subscribe, get email alerts and share within the player itself. Plus he's not hearing demand for it from brands. Still I think as this story unfolds and Adconion.TV finds itself competing with GCN for the highest-potential content, a destination site compliment will become essential. Should it agree, an acquisition would make sense to fill this hole (Metacafe? DailyMotion?).
For now though, Adconion has an aggressive plan to build Adconion.TV as an exciting new entry on the Syndicated Video Economy landscape. With its resources, reach and new production capabilities, this is clearly one to keep an eye on.
What do you think? Post a comment now.