Thursday, December 1, 2022, 3:48 PM ET
In today's fragmented media landscape, one of the key questions I am regularly asked as the Chief Marketing Officer of the largest provider of independent first-party TV audience data is how advertisers can find their most desirable TV audiences at scale. With viewers cutting the cord at record rates, it's essential for advertisers to lean into programming that their target audiences have demonstrated interest in, so they can reach them where they are today vs. where they were before.
In a world of cord-cutting and subscription cycling, where are we seeing growth from a viewership standpoint? One of the key opportunities we've identified for advertisers and broadcasters is women's sports. Their popularity has grown steadily over the past couple of years, with 2022 marking a watershed moment with the growth of Women's National Basketball Association (WNBA) viewership, the National Women's Soccer League (NWSL) scoring primetime coverage, and the launch of the Women's Sports Network, the first 24/7 channel dedicated to women's sports.

From Olympics arenas to sold out soccer stadiums, 2022 was a turning point for women's sports and the opportunity for advertisers to lean in to reach younger, more diverse, and affluent audiences has never been greater.

Women's sports drive explosive year-over-year growth
This year has been full of exciting sporting events between world-class women athletes. Across the women's March Madness tournament, the WNBA finals, and the National Women's Soccer League Championship, we saw double and triple digit increases based on year-over-year viewership.

The NWSL championship drove a particularly dramatic spike, with over one million households tuning in to the face-off between Portland and Kansas City. This was the first year that the NWSL championship game scored a primetime broadcast airing and, with that opportunity, it brought in a serious audience.



Smart advertisers leaning into women's sports achieve reach at scale
The growth of women's sports has been a theme throughout 2022. Smart advertisers are taking note, with brands like Nissan, Capital One, and Geico each reaching over six million households throughout the women's tournament.

Additionally, with viewership of women's sports growing, advertisers have significant opportunities to gain powerful in-home reach via in-stadium sponsorships. Data from Samba TV's partner Relo Metrics, an AI-powered sponsorship intelligence platform, found a 200% year-over-year increase in media value for in-stadium sponsorships viewed during the 2022 Women's Champions League semifinals, highlighting the growing value these events present to brands.

Hard-to-reach audiences across the country over-index on women's sports
A key reason we are seeing advertisers leaning into women's sports is for the diverse and traditionally harder to reach audiences they pull in. For example,
39% of Gen Z sports fans are watching more women's sports than they were just one year ago. Furthermore, Samba TV data has found that women's sports over-index in their share of diverse, younger, and wealthier viewers. During the WNBA finals and semifinals, Samba TV saw Black households, Gen Z (A20-24) households, and households in the $150k-$200k income bracket over-index based on viewership.

What's more, women's sports are drawing in younger, more affluent viewers from every corner of the nation. Both coastal and inland cities over-indexed to the 2022 NWSL championship game, highlighting the universal appeal and reach of women's sporting events for brands.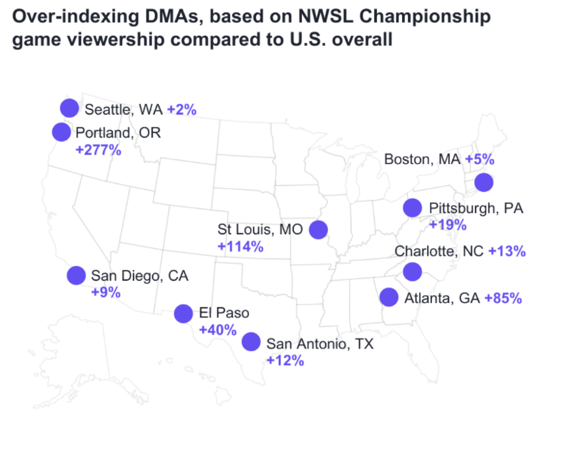 Broadcasters would be wise to take note
Women's sports have historically struggled to gain significant advertiser traction because their games have not benefited from the same network visibility of men's sports. As broadcasters seek to pull in viewers, women's sports should be top of mind. Game 1 of the WNBA finals, which aired on network television (ABC), drew in more than one million viewing households. That's more than twice the average rating for every other finals game which aired on cable channels.



The data is clear: viewership of women's sports is growing dramatically across valuable audiences. With audiences becoming increasingly fragmented and harder to reach, advertisers and networks should follow the data to where viewers are flocking. The sky's the limit for women's sports, and networks and advertisers should jump at the opportunity now to start nurturing relationships with these audiences.