Wednesday, February 1, 2012, 9:34 AM ET
|
The Wall Street Journal has launched its WSJ Live YouTube channel this morning, debuting "Off Duty" a companion video series to the popular lifestyle section in the newspaper's Weekend Journal. The WSJ Live channel is the latest addition to YouTube's 100 original channels strategy. In addition to Off Duty, the WSJ Live channel features NewsHub, Digits and Mean Street, three other on-demand/live video series that are found on the main WSJ.com site and more recently the WSJ Live iPad app.
Off Duty will originally broadcast for 30 minutes 5 nights a week at 6pm with host Wendy Bounds, but will then be split up into 5-6 on-demand segments available online. As expected with a lifestyle format, content categories include entertainment, autos, food & wine, luxury, travel, sports and fashion among others, which are organized into specific playlists. As with its other video series, WSJ's journalists appear in Off Duty interviews and in feature packages, leveraging their subject matter expertise and adding dimension to their typical bylined articles. As one example, currently the channel opens with an interview between Paul Stanley, lead singer from the band KISS and Lee Hawkins, a WSJ reporter.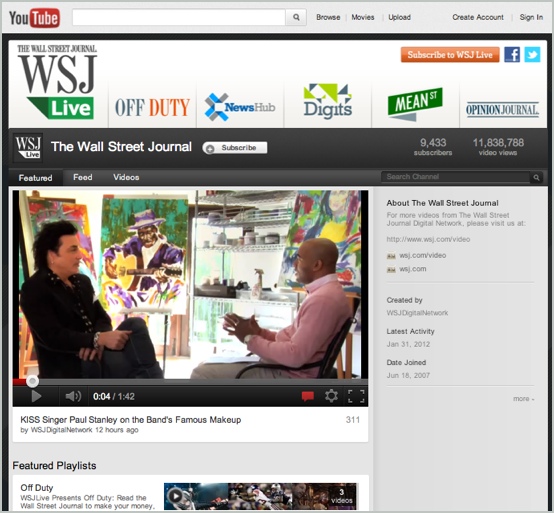 The WSJ Live YouTube channel further strengthens WSJ's video strategy as it continues to expand well beyond its newspaper roots, helping establish WSJ Live as a new video-centric brand. As with the iPad app, the YouTube channel is free to viewers and is completely ad-supported. WSJ Live gives WSJ a credible entry in the living room via numerous connected devices. It underscores how broadband is enabling media companies outside the traditional TV ecosystem to compete with incumbents.

Coming on the heels of yesterday's launch of IGN's START gaming channel on YouTube, and others that have already debuted this year, the WSJ Live channel also reinforces the breadth of YouTube's niche programming strategy, and ability to attract top content partners.