Tuesday, March 15, 2016, 7:18 PM ET
|
Startup Vadio (as in "radio") has released a new tool called "ChannelBuilder" which allows publishers and brands to easily curate and embed customized music video playlists. Publishers and brands can select music videos that align with their editorial or business model from a catalog of hundreds of thousands of music videos that Vadio has licensed.
Vadio's CEO Bryce Clemmer and recently added SVP, Marketing Brent Hieggelke told me that ChannelBuilder dramatically enhances Vadio's syndication value proposition since it gives every publisher/brand a turnkey way to add customized music videos to their site, in turn driving higher engagement and monetization.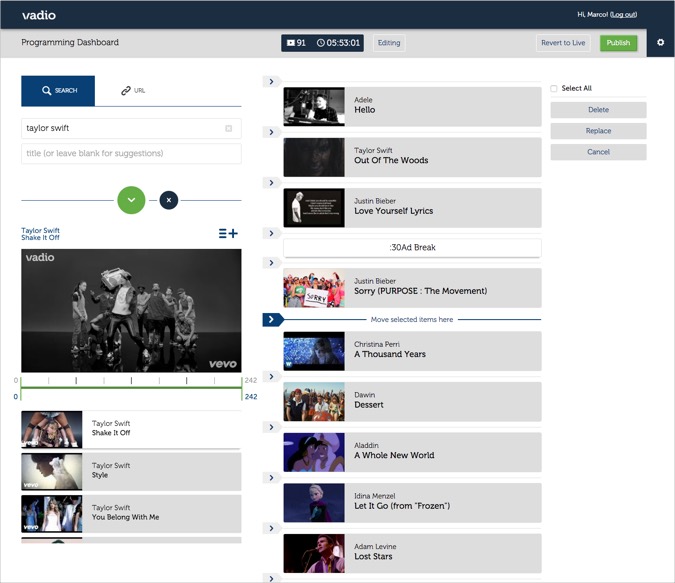 It's no secret that premium video is in short supply and commands the highest CPMs. Based on early experiences, Vadio believes that curation can substantially increase session lengths with music videos, in turn creating more premium video inventory. They don't pretend that watching music videos will ever drive the same session lengths as listening to music which is a "back pocket" experience, but they point to early evidence that curation can transform music videos from a "1 and done" viewing model to an extended attention model.

Vadio's current business model is strictly ad revenue sharing, with the splits varying depending on whether the publisher/brand or Vadio handles sales. The publisher/brand can use ChannelBuilder to set their monetization parameters. They're also leaving the door open to subscription models, particularly to support paid music streaming services. Spotify and Pandora would be prime targets given their own video initiatives.

The company has nice momentum behind it, having raised a $7.5 million Series A round, adding Yair Landau (former president of Sony Pictures Digital Entertainment) as Chairman/COO and Rio Caraeff (former CEO of VEVO) as an advisor last year.