Wednesday, August 10, 2011, 10:23 AM ET
|
The 93rd PGA Championship, the final major tournament of the season, gets underway tomorrow and Turner Sports, which has exclusive broadcast rights, has teed up significant multi-screen and social media initiatives. As the Olympics, NCAA March Madness and other high-profile sporting events have previously shown, online and mobile video have created an immersive, up-to-the-minute experience for fans.
Aside from its Thursday-Sunday live broadcasting schedule on TNT, Turner Sports has a full slate of online video coverage on PGA.com, which Turner powers and through mobile. Among the highlights:
- A free iPhone/iPod Touch PGA Championship app is available (argh, no Android apparently) that includes live video of the day's "Marquee Group", plus coverage of all four Par 3 holes.
- Scores and other updates are available on the PGA's optimized mobile and iPad sites.
- A new 360 Degree camera that users can adjust to get a broader view will be available.
- A video highlight hub lets users customize views and information by player, round, hole or memorable moment, and share these on-demand albums.
- "Snap and share" clipping feature for favorite moments that can be shared on Twitter and Facebook.
- Social media features including #PGAChamp destination on Twitter and live fan chats.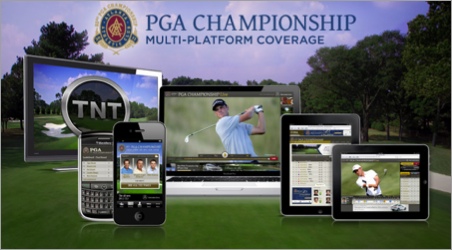 Note that unlike ESPN which has begun offering authenticated live -streaming of its channels online for pay-TV subscribers, Turner is only offering a subset of its linear coverage online and mobile, but doing so for free. I suspect that in the future, in addition to this package, Turner will follow the ESPN model and also offer full authenticated online/mobile viewing for subscribers. In the meantime though, access to PGA championship video continues to expand online and on select mobile devices, delighting fans.