The video ad management and networks space

, marked by competition among a group of privately-held companies, continues to evolve. In the last few weeks two key players, Tremor Media and Adap.tv have announced new solutions giving content providers more flexibility to optimally monetize their video inventory by easily accessing multiple ad sources. Given how essential the ad business is to broadband video's ultimate success, both products are welcome.

Ad networks play an important role for content providers which either don't have their own ad sales team or as an augment for those that do. For the latter, ad networks help monetize their unsold inventory, particularly important during unexpected spikes in viewership. Traditionally content providers had two basic choices, each of which had disadvantages:

First, they could select one ad management/network partner. This kept things simple, but didn't necessarily optimize the inventory, because it was dependent on how well that one network's advertisers were matched to available inventory (resulting in either the inventory going unsold or users seeing the same irrelevant ad over and over again).

The second was to go with multiple ad networks. This improved optimization, but created multiple operational challenges trying to work with different ad managers, formats and reporting.

Both Tremor's new "Acudeo" platform, and Adap.tv's "OneSource" seek to resolve these problems by providing one management platform capable of handling multiple ad sources/ad networks across all ad inventory.

Jason Glickman, Tremor's CEO, explained to me that he's positioning Acudeo to do for video advertising what DoubleClick's DART did for banner advertising. Content providers can easily enable all kinds of complex ad rules around their inventory - the type of ad format to be used, their frequency and contextual targeting (with partner Digitalsmiths), their cueing and lastly, standardized reporting, so that ongoing campaign adjustments can be made. Acudeo aims to support all third party ad networks. Tremor prices Acudeo flexibly depending on whether the content provider also uses Tremor's ad network.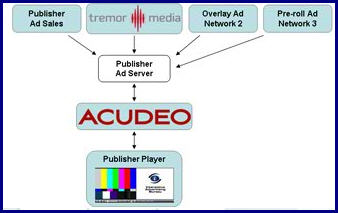 Adap.tv's recently introduced OneSource platform has the same goal of improving ad optimization with lower complexity. Amir Ashkenazi, Adap.tv's says OneSource differentiates itself by using Adap.tv's contextual advertising capabilities to optimize which third-party's ads to run. It does this by understanding the video content itself and then matching the optimal ads, factoring in the ad rules the content provider has preset. Amir believes that by doing so, it can raise the effective CPM delivered by 65%, from which OneSource's fee is deducted. OneSource has 40 third party ad networks currently integrated and also aims to support all ad sources.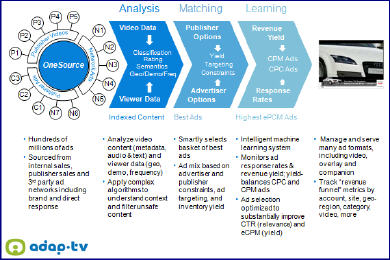 Acudeo's and OneSource's potential is to bring more spending into the video category, which obviously would be extremely valuable. Last week, I expressed concern that with so many video content providers relying on advertising, a short-term squeeze is a real risk. Both Acudeo and OneSource are encouraging signs that the ad management and network businesses are continuing to mature, which will benefit everyone.
What do you think? Post a comment and let everyone know!
(Note: Both Tremor Media and Adap.tv are VideoNuze sponsors)