Tuesday, October 23, 2012, 10:31 AM ET
|
"Killer app" is surely one of the most cliche terms in technology and one I try hard to avoid using. But today I'm making an exception because, in my opinion, the new TiVo Stream device actually has a bona fide killer app: the ability to wirelessly download recorded programs from a TiVo Premiere DVR to an iOS device for offline, high-quality playback. I've been using Stream mainly for this purpose for the past month and have absolutely fallen in love with the device.

The ability to download recorded programs is huge for several reasons. First and foremost, often when out of the home, it just isn't possible to stream video. A high-quality WiFi network may not be available (for instance, when flying). And even if it is, it may be over-shared, lacking necessary capacity for streaming. Wireless carrier 3G aircards similarly lack capacity, and with 4G aircards, data usage plan caps quickly kick in, making streaming an expensive proposition.
WiFi issues aside, downloading also enhances the DVR experience because it unlocks recorded programs from the DVR. In my house that's important because the sole TV with the TiVo is rarely available for my own personal use. Last but not least, until TV Everywhere is widely deployed, tons of great cable programming isn't yet available for streaming. With Stream, they can not only be downloaded for mobile viewing, they can also be wirelessly streamed to iOS devices in other rooms in the house where a TV or set-top box isn't present.
Stream enabled me to view, on 2 recent cross-country trips, numerous past episodes of Comedy Central's "The Daily Show" and CBS's "60 Minutes" plus CNBC's special "The Costco Craze," The History Channel's premiere of "The Men Who Built America" and PBS's "Frontline" election episode, "The Choice 2012." I also watched the Clint Eastwood movie "Gran Torino" on TNT and parts of 2 New England Patriots games, plus highlights of the Ryder Cup matches. One caveat with Stream is that you cannot download recorded programs from premium channels like HBO and Showtime. Different pay-TV operators also implement "do not copy" restrictions as well on certain other networks.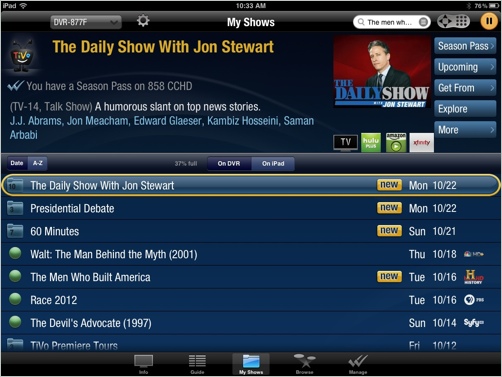 All I needed to do in advance was record the program, fire up the TiVo app on my iPad, and download them. I typically downloaded at "standard quality" which meant a file size of about 600MB per hour of programming. Transfer time varied but was typically 15-20 minutes. Unlike TiVo's earlier "TiVoToGo" app, which required the intermediary step of transferring programs to a computer, Stream pairs with your TiVo Premiere during set up which also requires connecting the Roku-sized device directly to your router.
The TiVo app provides a familiar DVR interface but with touch navigation. You can toggle between shows that are on the DVR and on the iPad, browse a guide and search for other programming and set up and manage recordings - basically all the same things you can do on the DVR. When viewing a program there's a scrubber bar to advance and rewind, along with a 30-second skip button (so yes, you can bypass the ads!) along with an 8-second jump-back button. Downloaded programs start instantly, and always played seamlessly, unlike with streaming which is subject to network vagaries.

The only real downside of Stream is the total cost involved. First you have to have a TiVo Premiere series DVR, which starts at $150 for the entry model. Then you have to subscribe to the TiVo service, which is either $15/month or $500 for a lifetime plan. Then you have to buy the Stream, which is another $130 (but carries no incremental monthly fee). However, Stream can generate cost savings if, for example, you were able to drop your Netflix or Hulu Plus subscriptions, or were able to cut back on iTunes or Amazon video rentals. Importantly Stream also lets you get more value out of your expensive monthly pay-TV subscription.

This last point is the main benefit for me. I'm very aware of the appealing programming I know I'm paying Comcast for each month, but, because of my busy schedule and travel demands, have long been frustrated by my inability to actually watch much of anything. With Stream I can watch in other rooms in the house if I'd like, but more valuably, can easily take the programs with me on the road. That's a killer app that no other device provides today, as best I can tell.

(Note: here's a video interview I did with TiVo's Jeff Klugman at this past May's Cable Show, in which he discusses TiVo Stream)