Wednesday, September 22, 2010, 9:01 PM ET
|
Roku is once again refreshing its product line, introducing 3 new players, including two that will offer 1080p HD streaming for the first time for Roku. As the chart below shows, the most notable features of the new top-of-the line XDS model ($99.99) are the upgraded HD capability, and a new "Instant Replay" feature on the remote control that allows users to jump back in the stream by 10 seconds without any buffering. The XDS also includes extended-range, dual-band Wireless N connectivity to home networks and a USB drive for portable media (note the existing HDXR model also has USB and will receive a firmware upgrade in the Fall to activate it).
The mid-range XD model also supports 1080p, but excludes the USB and the dual-band Wireless N, and is priced at $79.99. The entry level product, the HD, supports up to 720p HD video and doesn't include the Instant Replay feature on the remote control. All the new players also are slightly smaller than the previous ones.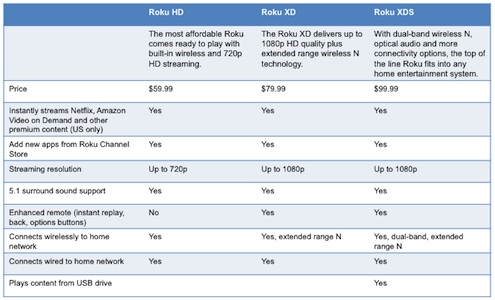 You have to give Roku credit - they are being very nimble with product refresh cycle times, plus they haven't shied away from reducing prices. The original Roku player (branded the "Netflix Player by Roku") only debuted in May, '08 and was priced at $99. For the same price, buyers now get the XDS model, which not only includes all the benefits above, but also content from dozens of providers (some free, some separate subscription), and much more to come this Fall. Though there is no shortage of other connected devices vying for the same market as Roku, it has definitely established itself as the most mainstream-oriented, simple-to-use, affordable option to date.
What do you think? Post a comment now (no sign-in required).