If you haven't heard of Rhett and Link, you need to check them out to understand another of the myriad ways that video is being democratized, advertising is being reimagined and value is being built in YouTube. My wife brought Rhett and Link to my attention after hearing a report about them on National Public Radio last night.
Rhett and Link are two engineers and lifelong friends who operate out of a North Carolina basement writing and performing short comedic songs. Emboldened by family and friends they've created over 200 videos that have generated 16 million views and a loyal following on YouTube and their own site rhettandlink.com. No doubt you'll agree their songs and videos are funny, clever and very memorable.
Calling themselves "internetainers" and having generated a signature style, they are now being contracted by advertisers to turn their talent toward developing promotion songs. Their folk song drive-through order for Taco Bell has generated almost 1 million views on YouTube. And their hilarious spot for Red House furniture store in Highpoint, NC, which spoofs race relations, has generated almost 1.5 million views. There will certainly be more of these promotional songs in the hopper. That's because given what these advertisers are probably paying for these spots, their ROIs must be off the charts, especially compared to traditional advertising tactics. And with Rhett and Link's following, all new promotional songs now have a built in viral tailwind.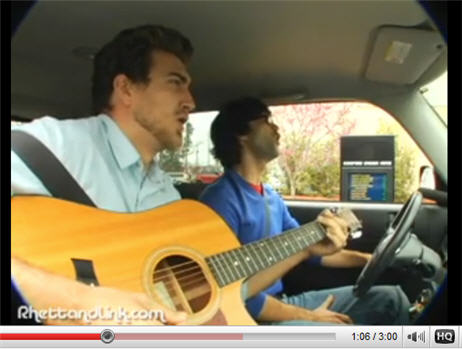 Rhett and Link remind me of Lee and Sachi LeFever of Common Craft, who I recently wrote about. They are all part of an emerging group of talent who would be considered "non-professionals" by the traditional standards of entertainment, advertising and communications. But with their own authentic and engaging approaches and direct access to audiences, they have been able to break through and attract large followings.
A key linchpin to all of their success is YouTube, whose massive audience and viral sharing is unmatched. Even as it strives for partnerships with premium quality video providers, YouTube's value to the Common Crafts and Rhett and Links of the world is undeniable. If leveraged properly, as it has been by these creators (and by others like Demand Media), it can also lead to genuine businesses opportunities.
When I repeatedly say that YouTube has massive franchise value - even though it is currently unprofitable - it's these kinds of examples, which put YouTube in the center of an emerging grassroots video ecosystem, that I'm thinking of. There's no other site that comes close to YouTube's reach, brand awareness or viral sharing potential.
If you have other examples along these lines, please send them along!
What do you think? Post a comment now.