Monday, June 28, 2021, 1:17 PM ET
|
Last Friday Hub Research published interesting survey results about consumers' willingness/desire to watch ad-supported streaming services, especially if it means saving money compared to more expensive ad-free alternatives. No surprise to anyone who's been playing close attention to the evolving SVOD/AVOD landscape, the research showed strong interest in ad-supported streaming. For me it was further validation of the Connected TV flywheel that I have described that is only going to accelerate adoption as consumption of ad-supported video both deepens and broadens.
When asked about business model preferences, assuming identical content for a streaming service, Hub found 41% of respondents chose free with ads, 33% chose subscription, ad-free, and 26% chose tiered, both paid and ad-supported options. More telling is that when Hub made the cost savings for ad-supported explicit ($4-5 per month discount), 58% chose ad-supported and 42% chose ad-free.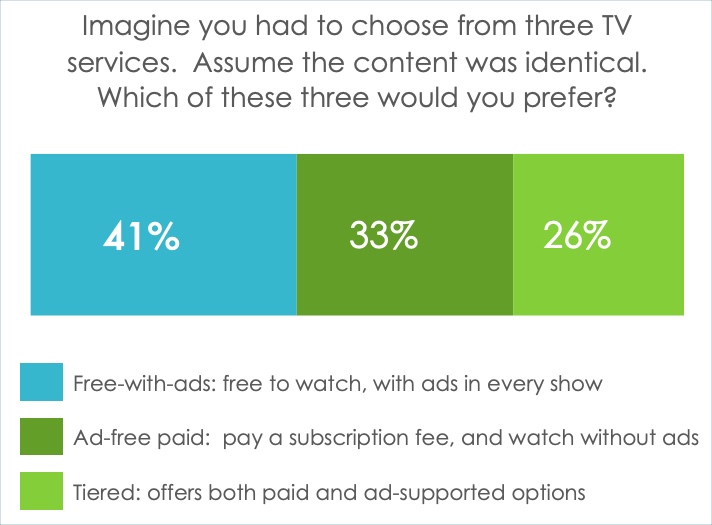 Importantly, Hub helped debunk the long-running false narrative that "viewers hate ads" and that their mere presence diminishes the viewing experience. Rather, the research reveals most viewers just hate a poor ad experience, as I know I do. Hub found that viewers' satisfaction was highest when there were 5 or fewer ads in a 30-minute show, with 47% saying this fit their definition of "reasonable."

Fewer ads also means higher engagement: Hub found 35% of respondents said they paid attention to 5 or fewer ads, which dropped to 23% for 11 or more ads. And a good ad experience can actually increase viewers' enjoyment of the show; the most satisfied viewers (60%) believed they saw customized ads, followed by ads driven by their search history (56%) and countdown clock during ads (54%). Though privacy is clearly a hot button issue today, respondents seem to be saying they're willing to accept advertisers knowing something about them to provide more targeted/relevant ads.

Ad avoidance also ranked just fourth (cited by 41% of respondents) as a main reason to sign up for a service. Ranked higher were exclusive content (51%), good value for the cost (46%) and deep catalog (46%).

This data, and related data previously published, are important for both advertisers and streaming services in getting underneath consumers' true preferences. Most streaming services (e.g. Hulu, Paramount+, Peacock, HBO Max, etc.) recognize that a less expensive ad-supported tier widens their total addressable market, reduces churn and makes them more competitive. Others, like Netflix, Disney+ and Apple TV+ have been steadfastly opposed to introducing an ad-supported tier.

When an SVOD service is experiencing uninterrupted growth, being a purist about ads (notwithstanding Hub and other research to the contrary) is an easier position to take. But when the subscriber growth story fades, or worse, contraction sets in, it's less viable to remain militantly opposed. As loyal VideoNuze readers know, I've been banging on about Netflix launching a low-cost ad-supported tier since December, 2019 and more recently (see here, here and here)

These tensions will be on full display and there should be new urgency when Netflix reports its Q2 earnings on July 20th and in the earnings call that follows. Netflix has already signaled sub growth will be slower, due to pandemic pull-forward. But how much slower is the question? And when will Netflix finally realize it needs to give consumers a choice? It still may not be time but eventually it will be.