Add Perrier to the list of brands that are discovering the power of running creative video campaigns on YouTube. Perrier launched a clever interactive experience called "Le Club Perrier" 2 weeks ago that appears to be driving significant viewership and engagement. Viewers are invited to watch and pass along links to videos in order to "unlock" the next versions which promise to get "sexier, steamier and wilder as the number of viewers goes up" (right, could they make it more tempting?).
It seems to be working though, at least according to the viewership meter, which indicates nearly 7 million total views to date (the campaign is also #5 on this week's AdAge/Visible Measures Viral Video Chart, though with a far lower view count). Part of the mystery is that it's not clear how many times the videos have been shared via email, Twitter or Facebook, or what it takes to unlock the next version. However, the invitations to share are heavily promoted and follow each video segment.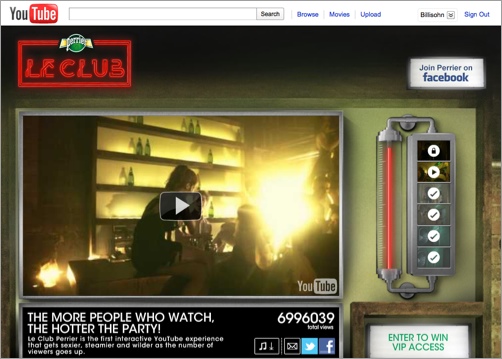 The videos themselves, of partying in a club setting, evoke more of a liquor or beer branding, not a fizzy water, but that appears to be the point of the YouTube campaign: to re-position the brand as more fun and hip. Personally I don't associate throwing back a few bottles of Perrier with a walk on the wild side, but maybe I'm the wrong target and of course advertising is all about changing perceptions.
Regardless, the interactivity and immersion are what's notable in Le Club Perrier. In fact, it's just the latest example of cutting-edge creativity, following on the heels of other YouTube campaigns for The Expendables film, Tipp-Ex and Desperados Tequila Flavored Beer, among others. Brands of all stripes are continuing to wake up to YouTube's extensive reach and ability to go well beyond the typical 30-second TV spot (to be clear though, Perrier's multi-platform campaign that includes TV illustrates how YouTube is just one part of the overall strategy).
At the recent ELEVATE: Online Video Advertising Summit, the WSJ's Emily Steel led a panel on the subject of how brands are breaking the 30-second ad mold, with David Lang (President, North America, Mindshare Entertainment), Keith Richman (CEO, Break Media) and Allen DeBevoise (Chairman and CEO, Machinima). Video of the session, with many different examples of how brands are re-thinking their advertising strategies, follows: