Wednesday, April 18, 2012, 10:25 AM ET
|
I'm excited to share information about several sessions and speakers at the VideoNuze 2012 Online Video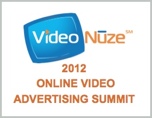 Advertising Summit on June 19th in NYC. The Video Ad Summit will bring together executives from brands, agencies, technology providers and other stakeholders for a highly-focused day of learning and networking. Lots more to come over the next few weeks!

Early-bird, discounted registration is now available (note, the VideoNuze Online Video Advertising Summit takes the place of last year's "ELEVATE" event).

How Multi-Platform Video is Leveling the Playing Field for All Content Publishers
- Alisa Bowen - GM, The Wall Street Journal Digital Network
- Baba Shetty - Chief Strategy Officer & Chief Media Officer, Hill Holliday (moderator)

Description:
With its recently unveiled WSJ Live video app, the Wall Street Journal has become a perfect example of how a traditional media company can expand into video, leveraging its assets to engage its audience and create new revenue streams. In this session, learn the secrets to WSJ's multi-platform video success and how new opportunities are opening up for all content publishers.

Connected TVs: Game-Changer Coming to the Living Room
- Sam Chang - VP/GM, LG Electronics
- Ed Haslam - SVP, Marketing, YuMe
- Colin Dixon - Senior Partner, The Diffusion Group (moderator)

Description:
Connected TVs are bringing high-quality online video directly into the living room, with the potential for massive new viewership, behaviors and video ad inventory. This session will explore the timeline for connected TV adoption, new ad formats that are already being deployed and how connected TV are going to change the video landscape, again.

Case Study - When Brands and Content Connect
- Mike Henry - CEO, Outrigger Media

Description:
High-quality original online video series allow advertisers to connect their brand objectives with their target audiences better than ever before possible. In this case study, learn how Tumi, a premium lifestyle travel company, has benefited from exclusively sponsoring the original series "Bourdain's TV Crew" and how Outrigger's video content marketplace, OpenSlate, is helping develop the market for brand-supported video series.

Early-bird, discounted registration is now available.

If your business success depends on online video advertising in one way or another, the Video Ad Summit is a must-attend day of learning and networking. I hope to see you on June 19th!