Wednesday, April 29, 2015, 11:36 PM ET
|
2,400 industry executives and fans packed the Madison Square Garden Theater for YouTube's Brandcast NewFront Wednesday night that was part 10-year birthday celebration, part evangelical commercial about online video/YouTube's ascendance and part pure entertainment spectacle.

The evening began with YouTube CEO Susan Wojcicki noting that hours watched are up 50% year-over-year and that YouTube now reaches more 18-49 year olds on mobile ALONE, than does any single cable network reach on TV. YouTube daily viewers are up 40% vs. 2014. And in a pitch to how advertisers can succeed on YouTube, Wojcicki said that 4 out of 10 of the top trending videos in 2014 were actually ads, not content.
Wojcicki was followed by numerous YouTube creators and advertisers offering sincere testimonials about how YouTube made their success possible. Speakers included comedienne Grace Helbig, iJustine's Justine Ezarik, author John Green and Universal Pictures President of Worldwide Marketing Josh Goldstine. Perhaps most compelling of all the speakers was BuzzFeed Motion Pictures' head Ze Frank who provided an inside look at how the company analyzes and creates videos geared to drive enormous sharing.

Interestingly, there wasn't a whole lot of business discussed at Brandcast. Green made an impassioned plea for advertisers to focus on YouTube's engagement potential and eschew traditional "distraction" ad models. YouTube head of content and business operations Robert Kyncl closed out the night forecasting that in 5 years the majority of ad-based video will either be on mobile or be mediated by mobile (50% of YouTube views are now mobile). He wrapped up with a great quote paraphrasing Hemingway, that "The future is no longer coming gradually, it's coming suddenly."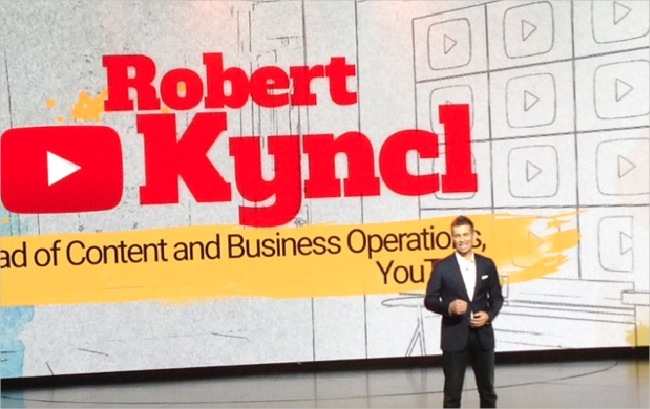 On a lighter note, Brandcast featured strong musical performances by Nate Ruess of Fun plus Mark Ronson and Bruno Mars singing Uptown Funk.