Monday, May 18, 2015, 11:22 AM ET
|
I'm thrilled to announce that Universal McCann Chief Investment Officer David Cohen will be the morning keynote guest at the 5th annual VideoNuze Online Video Ad Summit on Tuesday, June 16th in NYC. One of the industry's foremost innovators, David will participate in a interview with me titled "The Future of Video Advertising," in which he'll share insights on how unprecedented forces are impacting video advertising and who the ultimate winners will be in the fast-evolving landscape.

In addition, our afternoon keynote guest is Neeraj Khemlani, Co-President of Hearst Entertainment & Syndication and President, Hearst Digital Studios. Neeraj will participate in a conversation with me, titled "The Future of Video Content Providers," in which he'll explain how established media companies are transforming themselves for the online video era and new entrants are gaining audience momentum. Neeraj will also provide insight into Hearst's key video initiatives including investments in Vice, AwesomenessTV, BuzzFeed, Roku and others.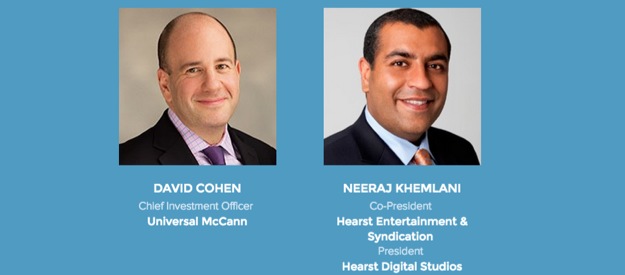 David and Neeraj are part of an all-star group of over 35 industry executives from Bonnier, CBS Interactive, Digitas, Disney/ABC, Conde Nast, Google, Heineken USA, Initiative, Nielsen, Puma, Reuters TV, Starcom, Turner Broadcasting, Viacom, Zenith Optimedia and many more who will be participating in this premier day of learning and networking!

Early bird, discounted registration expires THIS Friday, May 22nd, so don't delay. Register now to save and to win a 55-inch TCL Roku TV!

Learn more and register now!