Wednesday, November 7, 2018, 10:15 AM ET
|
Cadent has unveiled its Cadent Advanced TV Platform, enabling national ad buyers and TV networks to achieve a higher level of efficiency and effectiveness in addressable TV advertising. In a briefing, Cadent's Chief Product Officer Eoin Townsend and Chief Marketing Officer Paul Alfieri emphasized that today's national TV ad buyers are looking to shift to data-centric approaches that enable customized, targeted audience segments at scale. This is what Cadent Advanced TV Platform is built to deliver.

Cadent Advanced TV Platform can access 70 million addressable homes (i.e. those with set-top boxes that are individually identifiable and enabled) with ads across cable, broadcast and OTT content. The new platform has integrated all the elements required to make a scaled, targeted buy - choosing specific pay-TV/OTT providers, number of homes, relevant data sources, KPIs, budgets and more and melded them into a cohesive workflow that will feel familiar to most people who have bought digital advertising. Once the parameters are set the platform presents different campaign options to the buyer.
This workflow is a big step forward for advertisers and agencies who would have previously had to go pay-TV operator by pay-TV operator to cobble together their campaigns into a national buy, and then still be vulnerable to disparate audience definitions and reporting. In fact, the platform is built on what Cadent has been using internally to help execute national buys for clients in a professional services model. Eoin said the key here is that ad buyers and agencies no longer need significant technical expertise in order to tap into the benefits of addressable TV.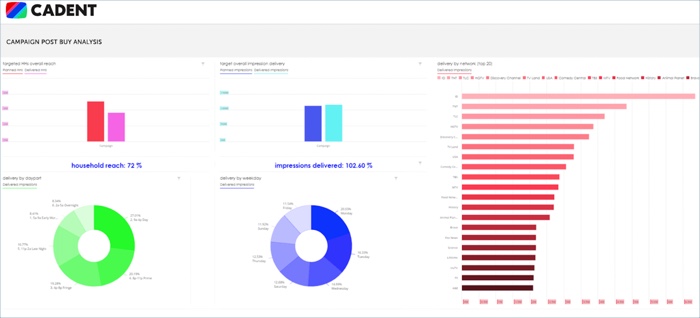 While the platform's goal is to make TV more data-driven, Eoin noted that it shouldn't be compared too strictly to digital or online video ad buying platforms. Eoin explained that TV is still a media where much of the ad buying is done upfront, whereas video ads are more dynamically bought, increasingly in real-time through exchanges and private marketplaces. For now, this is not Cadent's focus.

Paul said the platform is in beta with several agencies currently and will be rolled out through the end of the year and into Q1 '19. There is no platform fee; instead Cadent keeps a percentage of campaign spending.

By now we're all aware of the tectonic viewing changes that are happening. Consumers are scrambling traditional methods of how, where and when to watch programs. A constant is that there are ad buyers who require TV's broad reach, but increasingly desire digital's precise targeting. There are countless initiatives underway in the TV industry to meet these objectives. Cadent Advanced TV Platform looks like a solid new entry that will make TV advertising more competitive and accelerate addressable spending.