Thursday, April 16, 2020, 11:55 AM ET
|
The world has completely changed due to the virus. There are countless examples of this across every industry. In streaming video, one clear example is that Netflix will likely swing from a 50-50 chance of losing subscribers in its UCAN (U.S. plus Canada) segment in Q1 '20 to gaining subscribers in the period when it reports next Tuesday. One data source that's leading me to change my view is Antenna, a business intelligence startup that has been tracking underlying purchase data on SVOD providers, yielding insights on their subscriber additions and churn rates.

Just to step back for a moment, following Netflix's Q4 '19 earnings release that included its Q1 '20 forecast, some basic calculations I did suggested that Netflix itself was preparing for a loss in UCAN subscribers in Q1 '20. The company was forecasting global net subscriber additions of 7 million in Q1 '20, down from 9.6 million in Q1 '19. In addition to a trending slowdown in 2019, Netflix seemed to also be expecting an adverse impact from the Disney+ launch in Nov. ' 19.
But to hit the 7 million forecast, the 3 non-UCAN regions would have to experience a major reduction in net subscriber adds year-over-year. Since Netflix said they all actually experienced RECORD growth subscriber growth in Q4 '19, such a downturn in the very next quarter seemed highly unlikely. More likely was a slight loss in UCAN subscriber additions in Q1, continuing the trend set during 2019, to bring global net subs adds in at 7 million.

Then the virus and stay-at-home guidelines hit and scrambled the picture. According the Antenna data, average monthly churn in the 6 month period from Oct '19 to March '20 was approximately 4.45%, up around 60% from 2.79% in the Oct '18 to March, '19 period. But, as the graph below shows, the churn rate actually fell in the past couple of months, compared with an increase a year earlier.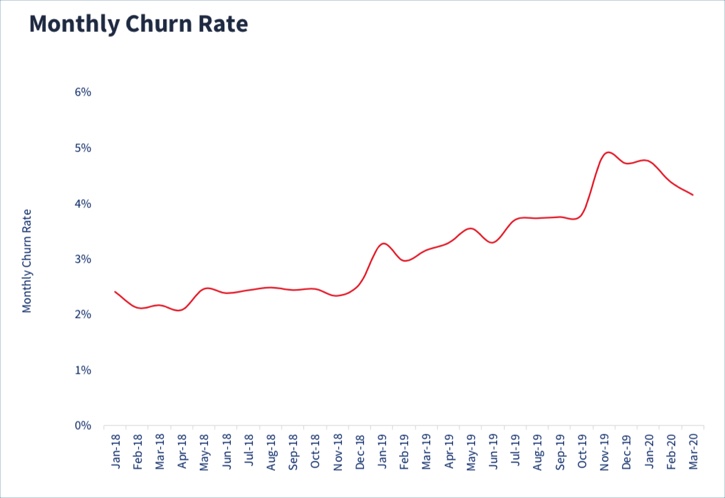 One of the big drivers of this is reduced churn among Netflix subscribers who also signed up for Disney+. As the below chart shows, the churn rate for Netflix subscribers who also signed up for Disney+ was highest in the early months of Disney+'s launch, but more recently have moderated. That suggests these dual-service households have realized there's value to having both services (my guess is most are households with young kids), magnified by the stay-at-home guidelines. Meanwhile as the chart also shows, churn for Netflix-only (no Disney+) has also decreased in the past few months. Maybe in Nov-Dec some Netflix subscribers preemptively cancelled their service to make room for Disney+?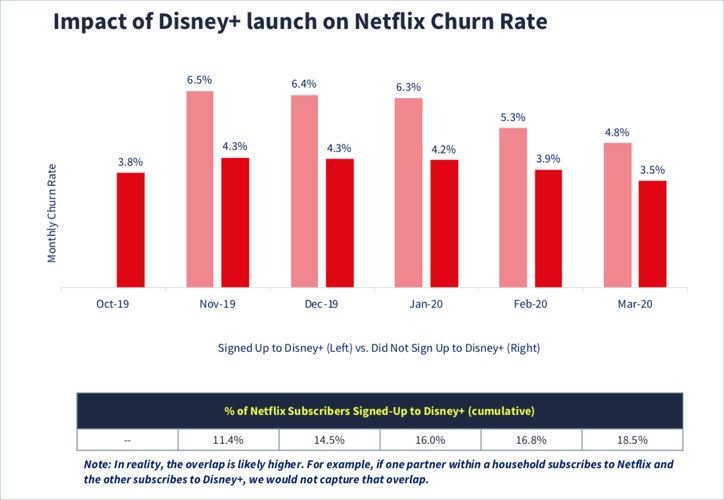 The other big driver of Netflix's reduced churn must also be millions of people staying at home, watching more video than ever. As the biggest SVOD service, Netflix has no doubt disproportionately benefited. Some subscribers who may have been on the margin, considering dropping, have now been watching far more than previously, and therefore decided to keep their subscription.

Beyond churn, Netflix has also likely benefited from higher than forecast gross subscriber additions due to the virus. Netflix has the best-known brand in streaming. Though its monthly rate is high compared to alternatives like Disney+, Hulu and now Peacock (not to mention free services like YouTube, etc.), it also has the biggest selection of content, enhancing its value. For many thinking of adding a streaming service, Netflix is likely the first choice.

Just 3 months ago, I thought cold, hard reality had caught up with Netflix and there was a 50-50 chance it would lose subscribers in UCAN in Q1 '20, based on the company's own forecast. But the impact of Disney+ hasn't been as bad as likely expected. And the impact of stay-at-home viewing has helped reduce churn and boost new subscribers. All of this is good news for the company.

Many of Netflix's fundamental underlying challenges remain (saturation, new SVOD competition, etc.), but for Q1 '20 at least, it appears that they've been kept at bay. We'll find out more on Tuesday when Netflix reports.