Tuesday, March 22, 2011, 4:44 PM ET
|
An exciting feature of this year's NCAA March Madness on Demand (MMOD) is the availability of highlight clips during the games themselves. This near-real time metadata tagging and indexing capability is being powered by Digitalsmiths, and it represents a key milestone in the online sports experience.
As I described last month in my review of MLB.com's "Fantasy Baseball Commissioner" product which this season will include in-game highlights as well, these initiatives move metadata tagging and indexing from the realm of on-demand libraries to live streams. Digitalsmiths' GM Patrick Donovan wrote a post about this last Thursday, and I got a chance to catch up with him about it further.
Patrick explained that Turner Sports, which is the co-rights holder to MMOD with CBS Sports, defined a set of game highlights they wanted Digitalsmiths to capture, such as best plays, dunks/layups/blocks/steals, game/team/player highlights, etc, which are then posted to special playlists within the MMOD site. No new video clips are actually being created. Rather, "virtual clips," with time-stamped in and out points of the underlying linear video, are being set. This approach dramatically reduces the complexity of keeping track of all these clips. Fans can embed and share each individual highlight as well as the entire playlist through social media options.
The playlists are not only a great new source of enjoyment for fans, they also represent a new, dedicated opportunity for advertisers. So, for example, Coca-Cola Zero is sponsoring the "Impressive Moments," History Channel the "Dunks and other plays," SAP, the "game recaps," etc. Typically a short pre-roll ad is being run before the highlights begin, with persistent branding alongside the video player. The big benefit to the advertisers is 100% share of voice in those dedicated content areas, which gives them something they can say they're exclusively associated with.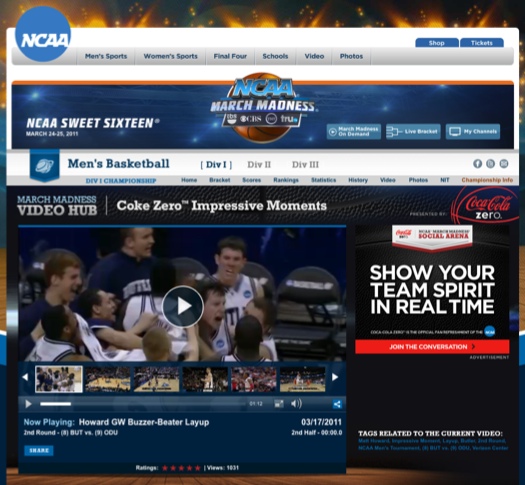 For those looking for a glimpse into what the future of online sports will look like, this is it. Fans are going to get vastly increased control over their experiences, with the ability to personalize and share exactly the moments they enjoy most being taken to ever greater levels. As important, advertisers also get far greater value than typical 15 or 30 second ads ever provided. Pretty exciting stuff.
What do you think? Post a comment now (no sign-in required).
Note: We'll be exploring the intersection of online sports, advertising and enhanced user experiences at ELEVATE: Online Video Advertising Summit on Tuesday, June 7th in NYC. More information coming soon.

Note also: Digitalsmiths is a VideoNuze sponsor.