Wednesday, December 4, 2013, 9:29 AM ET
|
Yesterday's VideoSchmooze drew 230+ attendees for a full morning of deep dives into the hottest topics in the industry. One of the sessions focused on mobile video and featured executives from ESPN, PBSKids and VEVO, which are already achieving huge mobile viewership, plus technology provider Beachfront Media, which is powering many popular mobile video apps. While I was moderating, my partner Colin Dixon took notes and he shares his observations below.

Mobile Video Experts Share Insights at VideoSchmooze
by Colin Dixon

At the VideoSchmooze event in NYC Tuesday I sat in on a panel moderated by my podcast partner, Will Richmond, entitled Mobile Video Rising. And according to the panel participants, it is rising indeed. We were treated to a host of eye-popping data showing just how far video to tablets and smartphones has come.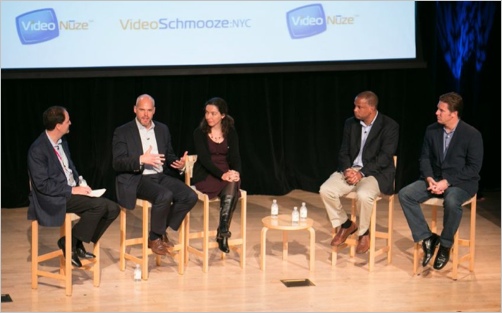 Damon Phillips, VP of Watch ESPN and ESPN3, said that two thirds of smartphone viewing occurred outside of the home. This is very different from other data I heard in June of this year that said that 64% of smartphone viewing and 82% of tablet viewing occurred in the home. Mr. Phillips went on to say that he was very surprised at the length of time people watched. On a smartphone, 15 minute viewing periods are common, while tablet viewing can go the whole length of a game. With respect to the smartphone, this led Mr. Phillips to comment that ESPN targeted shorter subject matter at the devices. The long viewing times on tablets, however, suggest it is being used as a TV replacement.