Social software provider KickApps is announcing this morning that its App Studio will now support HTML5, in addition to Flash.

App Studio is a drag-and-drop authoring tool for creating customized video players. With App Studio, users can select from a range of pre-integrated plug-ins from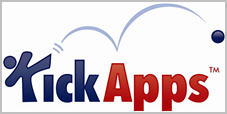 KickApps' partners. KickApps CEO Alex Blum explained to me yesterday that users will now be able to author once in App Studio and have end-user devices playback in whichever video format they detect is appropriate (e.g. Flash when viewing online or HTML5 when viewing on an iPad or iPhone).
Though still early stage, HTML5 has generated excitement among those looking for a browser-based video experience. In addition, Apple's decision not to support Flash video on any of its "i" devices has meant content providers who are eager to gain access to Apple's audiences, but who have been using Flash exclusively, face a new workload. So by offering tools that bridge content providers to HTML5, App Studio's new proposition looks quite valuable. Alex added that no new coding or HTML5 knowledge is required by the App Studio user.
In addition, KickApps will be working with Adobe on a spec that will extend Adobe's Open Source Media Framework so plug-in providers can more easily evolve their plug-ins to work with the upgraded App Studio. This past May KickApps and Adobe unveiled a co-branded version of App Studio for OSMF. While HTML5 has often been portrayed in the media as Flash's nemesis, Alex said that Adobe wanted to be involved in the evolution of App Studio and continue providing tools for HTML5 developers. The HTML5 move follows an upgrade last month to App Studio to create rich media apps for Facebook.
What do you think? Post a comment now (no sign-in required).