As I alluded a week ago, today I'm very pleased to share details of VideoNuze's first Broadband Video Leadership Breakfast Panel.
The session will be held on November 10th, in Boston, and is entitled, "How to Profit from Broadband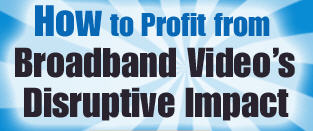 Video's Disruptive Impact." It is being held on the first full day of the annual CTAM Summit, so if you're coming to town for that event, I hope you'll be able to carve out time to attend the leadership breakfast.
The panel features an A-list group of executives, whose companies are at the forefront of the broadband revolution:
Deanna Brown - President, SN Digital, Scripps Networks
Bill Carr - Vice President, Digital Media, Amazon
David Eun - Vice President, Content Partnerships, Google/YouTube
Herb Scannell - Chairman/Co-Founder, Next New Networks and former Vice Chairman, MTV Networks and President, Nickelodeon Networks
Peter Stern - Executive Vice President, Strategy and Product Management, Time Warner Cable
Click here to register for the early bird special
I recruited this diverse group specifically to ensure a range of perspectives (established vs. early stage, content vs. distributor, ad supported vs. paid, etc.) are represented. It will be invaluable for attendees to hear the pros and cons of varying broadband video strategies, as well as the current data supporting these approaches. Having moderated dozens of panels over the years, I'm focused on bringing together best practices I've observed to ensure this is a well-structured, high-impact discussion.
Among other things, I expect attendees will learn about the tradeoffs of different business models, how consumers' video behaviors are changing, what these five companies' broadband priorities are and what roles upstart content providers and aggregators will play in the future. The most important takeaway will be what you, as participants in the broadband market, can be doing now to ensure your future success.
The breakfast panel is generously sponsored by ActiveVideo Networks, Akamai, Anystream, KickApps and Yahoo and is being run in association with CTAM's New England and New York chapters, on whose boards I serve.
Click here to register for the early bird special
I'm incredibly excited about the leadership breakfast, as it marks a continued push by VideoNuze into the events space, a key priority going into 2009. In fact, last night marked the kickoff of our events push, with the inaugural VideoSchmooze networking evening, which drew 200+ attendees on a rainy, Red Sox-at-home night (pictures are here). Look for more VideoSchmoozes in '09 as this networking event goes on the road.