Wednesday, November 2, 2016, 1:48 PM ET
|
Hulu announced yesterday that it has struck deals with 21st Century Fox and Disney for access to over 35 different TV networks for Hulu's skinny bundle, slated to launch in early 2017. The agreements are no surprise given Fox and Disney are Hulu's two primary investors, along with Comcast (which has a back seat role per restrictions related to its NBCU acquisition) and Time Warner, which recently took a 10% stake in Hulu.

But the devil is in the details, because when it comes to Hulu's ability to include live broadcast feeds in its skinny bundle, the Fox and Disney deals only get it a small part of the way. Fox owns 17 stations around the country and Disney owns just 8. Since there are 210 DMAs in the U.S. that means Hulu needs to strike agreements with lots of different local station owners to enable a standardized nationwide skinny bundle offer including local broadcast feeds.
To get a sense of how important these local deals are, even in the increasingly fragmented landscape, the four big broadcast TV networks still account for between 20-30% of all viewership. But more important, they have some of the most highly-rated individual programs on TV, specifically sports. The inability to provide nationwide broadcast coverage of marquee sports significantly diminishes any skinny bundle's value proposition.

A great example of this is how Sling TV's is promoting tonight's thrilling World Series game 7, being aired on Fox. If you look at Sling TV's home page today, you'll see a prominent graphic highlighting "The World Series on Fox With Sling TV." But note below, it clearly says "where available" that in turn links to a page revealing that the Fox live broadcast is available in just 17 markets (NOTE: this page has been updated and now no longer displays where the Fox, ABC, NBC and Univision live feeds are available. You can only search by zip code for availability). Cubs fans would be in luck, because Chicago is one of them. Indians fans would be out of luck because Cleveland isn't one. Here in Boston we'd be out of luck too as clearly Sling TV does not yet have a deal with Cox Media Group, the owner of Fox affiliate WFXT.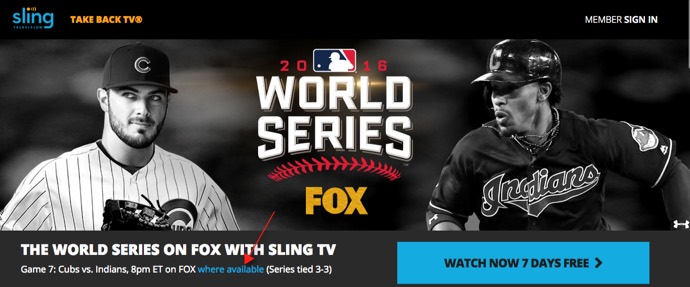 This is not to pick on Sling TV, which, to its credit, has greatly expanded its selection of networks (although to get both Fox and Disney networks and the broadcast feeds, where even available, adds up to $45/month, far more than the $20/month entry price). But the problem is that promoting the perception that you can subscribe to Sling TV and watch the World Series, when in fact for tens of millions of homes you cannot, will only lead to viewer disappointment and adverse brand impact.

Hulu is going to find itself in a similar situation: it will be tempted to promote marquee sports, but without full nationwide live broadcast coverage, it will lead interested prospects to be turned off when they read the fine print.

The lack of ubiquitous broadcast coverage is one aspect of the "Swiss cheese" problem I've had with skinny bundles from the beginning. On the one hand they herald lower prices to the consumer, but in order to do so will require making difficult choices about which networks are included in the low-cost base package vs. which ones will be placed on tiers. Any time a prospect notices one of their preferred networks is missing, they'll conclude the skinny bundle doesn't make sense for them.

And even when viewers DO subscribe to these tiers - essentially moving toward recreating the full multichannel lineup - the cost savings will steadily disappear. This undermines the whole "save money" value proposition in the first place. This is fundamentally why I believe skinny bundles will end up having limited market appeal.

As if all that weren't enough, a huge new problem hangs over all skinny bundles: AT&T's new DirecTV Now service, which will offer 100+ networks for just $35/month - in other words a multichannel bundle for a skinny bundle's price. We don't know yet what will be included in DirecTV Now - or how IT will handle the live broadcast challenge - but one thing that's virtually certain given its likely content costs, is that AT&T will lose money on every DirecTV Now subscriber.

All of this puts Fox and Disney in particular, in a tricky situation: at once trying to launch Hulu's skinny bundle successfully, participate in DirecTV Now and juggle competing against pay-TV operators, their best customers. One other big issue is how to deal with CBS, which has its own video service in CBS All Access (though its deal with YouTube for its skinny bundle is encouraging).

2017 is shaping up to be a very interesting year for Fox, Disney and Hulu.