Friday, April 15, 2011, 10:32 AM ET
|
As brilliant as the video ads on YouTube were for Tipp-Ex and Sylvester Stallone's "The Expendables," it's time to crown a new champion as the most innovative video ad yet on YouTube - Desperados Tequila Flavored Beer (right, I'd never heard of the product either). I stumbled on this one yesterday (gotta love those random tweets on TweetDeck!) and the ad raises the bar once again for the rest of the market. I'm not going to spoil the fun, but suffice to say there are some great head-fakes and really well-done interactivity.
Desperados is further proof of how tantalizing online video advertising is for brands ready to think out of the box and engage their target audiences in completely unexpected ways. Over the last few weeks, as part of the planning for ELEVATE: Online Video Advertising Summit on Tues., June 7th in NYC, I've been talking to a lot of executives in the online video ecosystem and what I consistently hear is the genuine desire by brands and agencies to learn how to do breakthrough creative, at scale, in the bustling new medium of online video.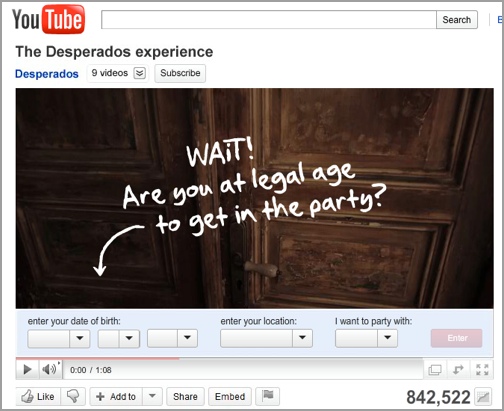 While pre-rolls, mid-rolls and post-rolls will always be the workhorses of online video, Desperados, and other ads, show how much potential there is to go beyond these units. To its credit, YouTube, with its massive reach and complete control over its UI, has begun distinguishing itself as a leader in this respect. As other brands see what's possible, inevitably they're going to jump on board too. All that makes for a very exciting future in online video advertising.
Anyway, just something fun to pass around to your friends this weekend. Enjoy!